Join GitHub today
GitHub is home to over 40 million developers working together to host and review code, manage projects, and build software together.
Sign up
New issue

Have a question about this project? Sign up for a free GitHub account to open an issue and contact its maintainers and the community.

By clicking "Sign up for GitHub", you agree to our terms of service and privacy statement. We'll occasionally send you account related emails.

Already on GitHub? Sign in to your account
Distribution Network from Main-Warehouse to Picking Warehouse
#5776
Comments
Is this a bug or feature request?
What is the current behavior?
Which are the steps to reproduce?
What is the expected or desired behavior?
ToDo:
have 2 Warehouses

Picking Warehouse (this shall be used in Sales Orders per default)
Main Warehouse

create a distribution network that moves from Main Warehouse to Piking Warehouse
find a way how we can create a default distribution network that works without creating a product planning for each product separately

create a new window product planning as main window
add a sequence No. column
don't need to have product mandatory
only 1 entry for bodymed without product (material dispo will always trigger because sequence low and not other entries)

make sure distribution orders are created after creating a sales order for a product where the picking warehouse is not in stock
This comment has been minimized.
Docu
New Product Planning window
Make sure the default entry has the lowest seqNo

Make sure the flags DocComplete and IsCreatePlan are set on true

Have a warehouse that we consider the main warehouse, where we deposit the products that we receive. I also marked it as In Transit because a transit warehouse is mandatory for distribution orders.
Have a warehouse that we use for picking. This will be the warehouse used in the sales orders.
Create and complete a sales order for a product that doesn't have any receipt schedule
=> OK: A distribution order was created:
In my case, it is 800.

Make a receipt (or more) for this product with a high qty, so it covers all the needed demand.
Complete this order

=> OK: No distribution order was created for this one

Now create a sales order with the qty higher than what we have in stock. ALso, use another preparation date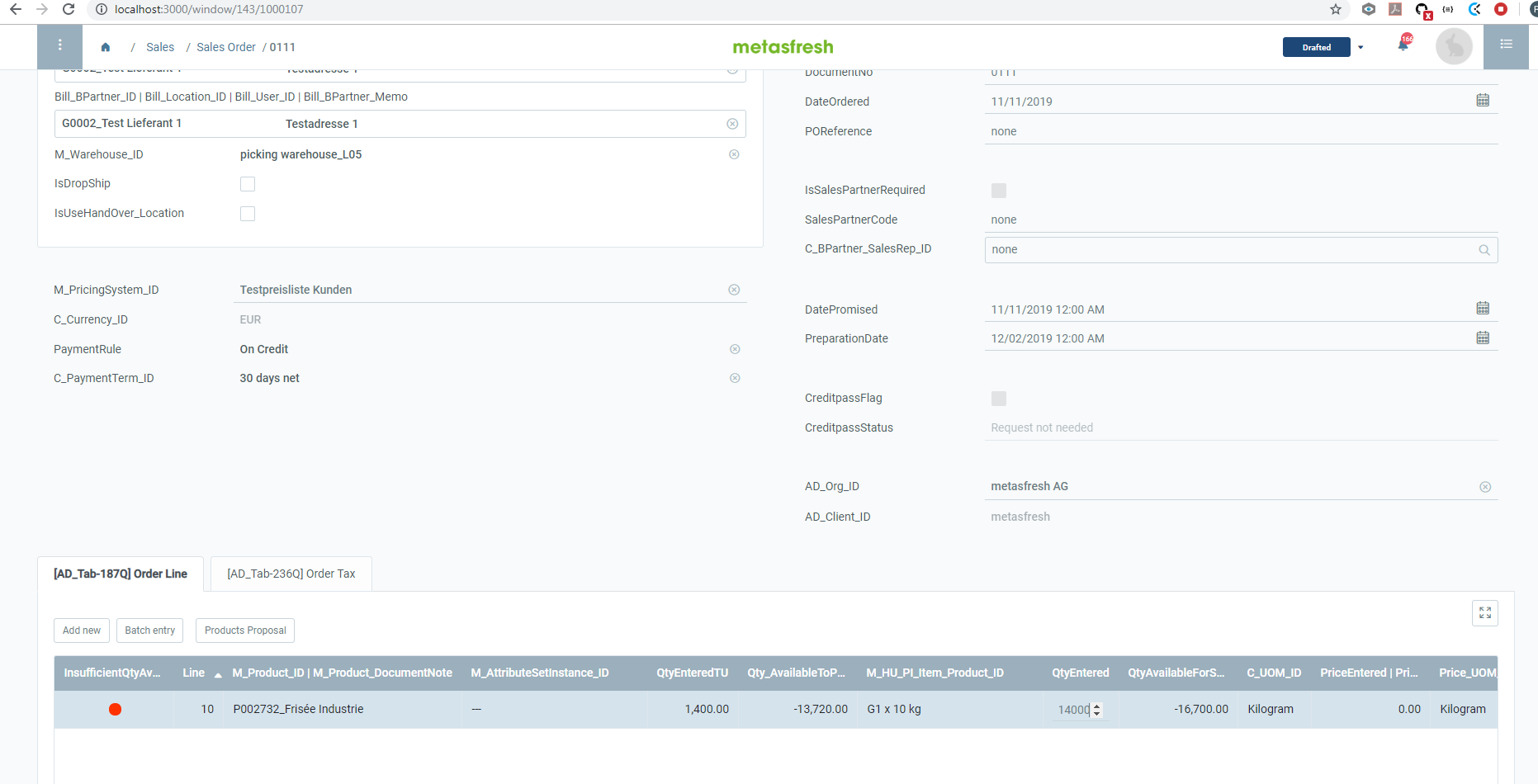 Complete this order

=> OK: A distribution order was created for the difference.
( note that the number doesn't look right. Maybe we should create a followup to find out where it comes from. I talked with Tobi and he said if the number it's wrong it's not because of this task)