Join GitHub today
GitHub is home to over 40 million developers working together to host and review code, manage projects, and build software together.
Sign up
New issue

Have a question about this project? Sign up for a free GitHub account to open an issue and contact its maintainers and the community.

By clicking "Sign up for GitHub", you agree to our terms of service and privacy statement. We'll occasionally send you account related emails.

Already on GitHub? Sign in to your account
macos mojave: "Visual Studio Code" would like to administer your computer.
#59484
Comments
Issue Type: Bug
On macos Mojave, running code at the command line systematically shows this message:
"Visual Studio Code" would like to administer your computer. 
Administration can include modifying passwords, networking, and system settings.
[Don't Allow] [Ok]

VS Code version: Code 1.27.2 (f46c4c4, 2018-09-12T07:04:11.329Z)
OS version: Darwin x64 18.0.0
System Info

Item
Value
CPUs
Intel(R) Core(TM) i7-4980HQ CPU @ 2.80GHz (8 x 2800)
GPU Status
2d_canvas: enabled
checker_imaging: disabled_off
flash_3d: enabled
flash_stage3d: enabled
flash_stage3d_baseline: enabled
gpu_compositing: enabled
multiple_raster_threads: enabled_on
native_gpu_memory_buffers: enabled
rasterization: enabled
video_decode: enabled
video_encode: enabled
webgl: enabled
webgl2: enabled
Load (avg)
3, 4, 4
Memory (System)
16.00GB (1.17GB free)
Process Argv
/Applications/Visual Studio Code.app/Contents/MacOS/Electron /Volumes/infrastructure
Screen Reader
no
VM
0%
Extensions (3)

| Extension | Author (truncated) | Version |
| --- | --- | --- |
| asciidoctor-vscode | joa | 0.15.1 |
| php-cs-fixer | jun | 0.1.85 |
| Go | ms- | 0.6.89 |
bpasero
self-assigned this
Sep 27, 2018
bpasero
added
upstream
electron
mojave
labels
Sep 27, 2018
Sounds a bit like #55236. Do you get the same when you run from the Dock?
I do not have the issue when I run from the Dock.
Worth noting I also am not logged in as root nor using sudo. Simply running code under my local user.
@huguesalary yeah, I have not seen this so far and I recently updated to Mojave as well. If you find out anything more about it please let us know.
Same issue here, but only when trying to open the in-app terminal.
I found this guide which explained a fix for the same problem in iTerm 2, I have applied the same changes to VS Code and it seems to have fixed the issue.
System Preferences -> Security & Privacy -> Privacy -> Full Disk Access -> Add Code.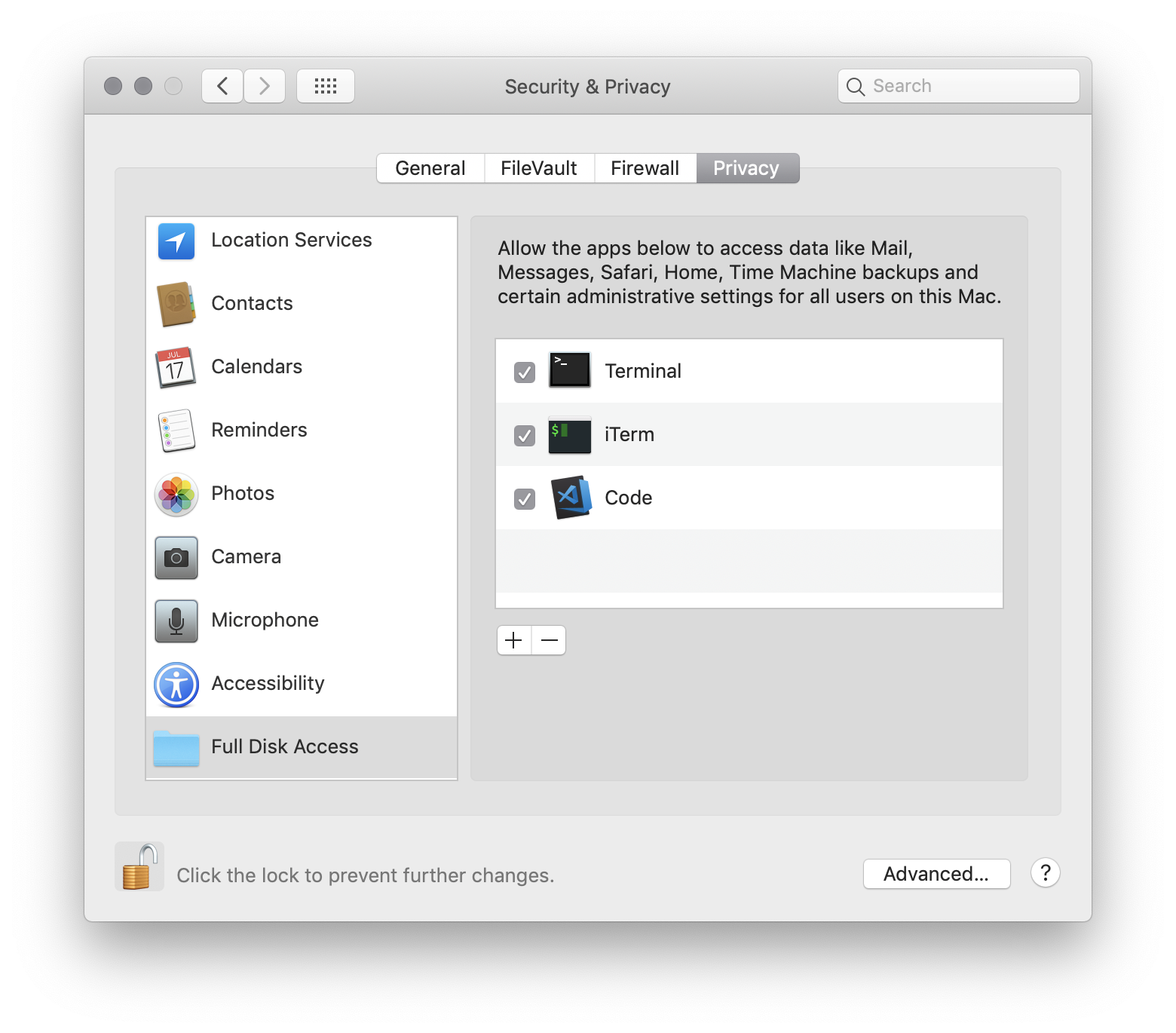 @oznu's solution seems to be working for me