New issue

Have a question about this project? Sign up for a free GitHub account to open an issue and contact its maintainers and the community.

By clicking "Sign up for GitHub", you agree to our terms of service and privacy statement. We'll occasionally send you account related emails.

Already on GitHub? Sign in to your account
plot_alignment should show transparent brain when using sEEG electrodes
#8445
Comments
Describe the new feature or enhancement
Using plot_alignment to see where sEEG electrodes are located in the brain. But if you you use any brain surfaces such as surfaces=["pial"] the brain is fully opaque so you can't see where the electrodes are that are inside the brain. So it would be best to give the brain a bit of transparency when you have sEEG electrodes embedded in the brain.
Describe your proposed implementation
As far as I can tell, this is a single line change. I have already created a feature branch in my fork which changes the setting of opacity depending on whether there are sEEG electrodes present for plotting.
https://github.com/kdoelling1919/mne-python/blob/5b039cdfb3da64c89947f09a0bfd83481955f29c/mne/viz/_3d.py#L840
Describe possible alternatives
Another option might be to set transparency generally any time there are sensors to be plotted that are inside the brain volume. Sounds like a bit more work (and more knowledge about the surfaces than I currently have) but it would be more general.
Additional comments
Here is what the plot_alignment looks like in current master version of plot_alignment

Here is what it looks like in my branch.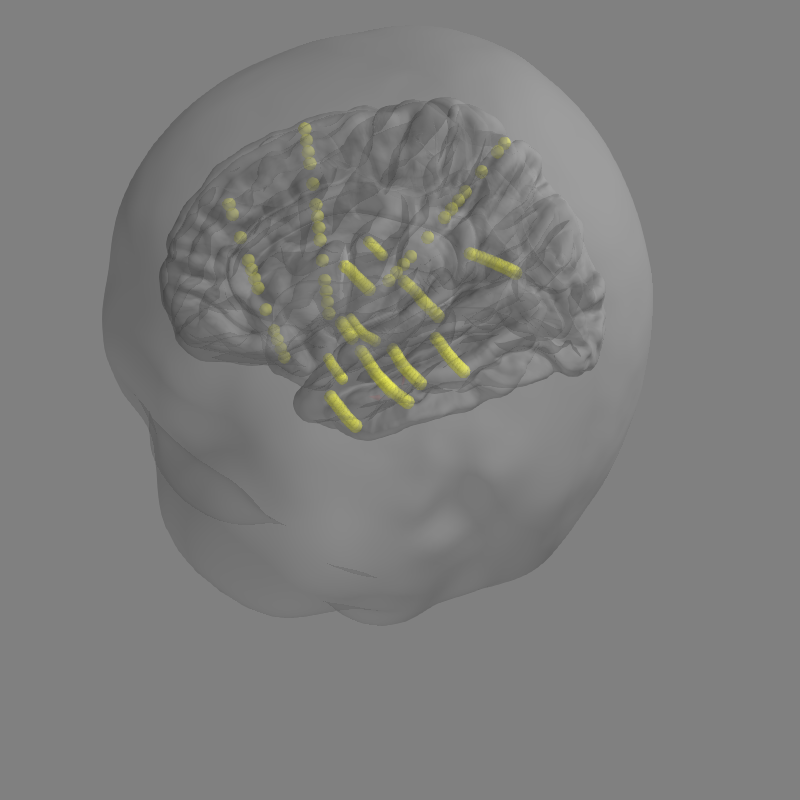 If people agree this is useful beyond just for myself. I'll make the pull request.
Thank you!
The text was updated successfully, but these errors were encountered: