Join GitHub today
GitHub is home to over 31 million developers working together to host and review code, manage projects, and build software together.
Sign up
New issue

Have a question about this project? Sign up for a free GitHub account to open an issue and contact its maintainers and the community.

By clicking "Sign up for GitHub", you agree to our terms of service and privacy statement. We'll occasionally send you account related emails.

Already on GitHub? Sign in to your account
[UX] Settings
#187
Comments
@brampitoyo can you provide an update when you're back? @st3fan has some questions I believe. Thanks!
Flow
https://mozilla.invisionapp.com/share/DUPPSH23MKX
Walkthrough
The Settings page contains 4 sections:
Account
Basics
Advanced
About
Account
If user has not signed into Firefox Account, then show the "Sign in" banner
If user has signed into Firefox Account, then hide the banner and and show the "Account" section
"Sign in" banner
This banner leads to the Firefox Account sign in page, which is a webpage.
Account section
Tap the username and email menu item to reveal a page that allows you to manage what's synced to Fenix.
Basics
This section contains 4 items
1. Search engine
This page contains:
Search engine selection (radio buttons)
Toggle to control whether you'd like search suggestions to show up or not
2. Passwords
This page contains:
Toggle to control whether you'd like Fenix to save and fill logins as you visit sites
List of saved logins
Question: There's currently no way to remove logins from inside Settings, but we plan to design this feature after v1. Is this an acceptable plan?
3. Credit cards and addresses
A page that contains links to two sub-pages:
a. Credit cards
b. Addresses
3a. Credit cards
This page contains:
Toggle to control whether you'd like Fenix to save and fill credit cards
List of saved credit cards
Link to manually add a credit card
Question: Does Android have a system "Add a credit card" form that we can take advantage of, or do we need to design our own from scratch?
3b. Addresses
This page operates identically to the credit cards page.
The same question applies: Can we use "Add an address" form provided by Android, or do we have to create our own?
4. Set as default browser
If Fenix isn't set as a default browser, the toggle position should be switched OFF.
When tapped, an instructional modal dialogue shows up.
When "Next" is tapped, a system modal dialogue shows up. It allows the user to select a default browser.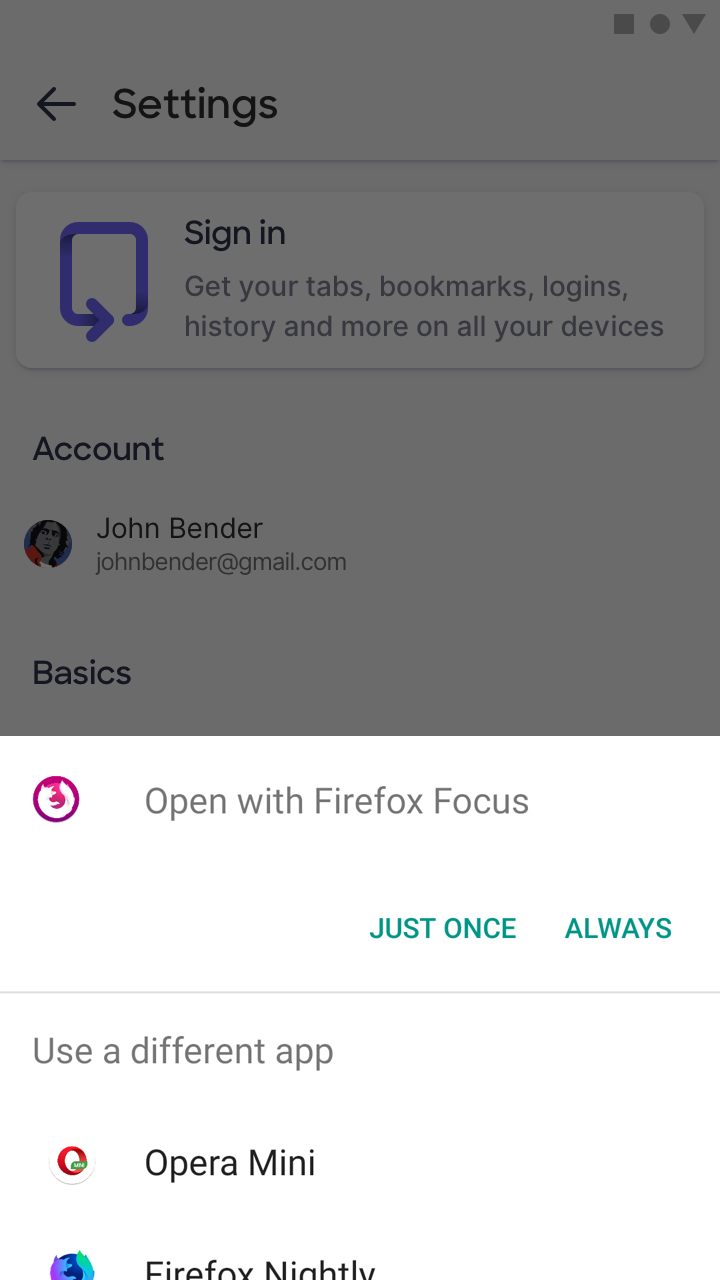 Advanced
This section contains 4 items:
Site permissions
Accessibility
Language
Data choices
Site permissions
Will be discussed in #188
Accessibility
Default text size adjustments? High contrast mode? This is where those Settings go.
Language
A modal dialogue to change Fenix's display language.
Data choices
This section controls communications between Fenix (the application) and Mozilla (the company).
Telemetry, crash reporter, Mozilla Location Service and health report can be turned on and off from this section.
About
This section contains 4 items:
About
In-content page that shows basic information about Fenix
Rate on Play Store
Links to the UI inside Play Store app where the user can rate and write a review
Give feedback
Links to input.mozilla.org
Help
Links to the Fenix product page in support.mozilla.org
@colintheshots This issue is ready for your feedback, and to estimate.
@st3fan Can I help answer your questions?
Jan 29, 2019
This was referenced
@brampitoyo Love the designs, awesome work on these 😄
Just wanted to point out in regards to the default browser setting: we tried doing this with Focus but were unable to find a solution that wasn't really hacky as this is not the intended method of setting a default. I'd recommend we use the accepted method like we used resorted to in Focus in which we just open the system settings to the default browser section.
Unfortunately this doesn't work for devices <7.0, but for those devices we can redirect to a SUMO page as we did in Focus as well.
If someone knows a way around this, feel free to chime in!
Jan 29, 2019
This was referenced