Join GitHub today
GitHub is home to over 28 million developers working together to host and review code, manage projects, and build software together.
Sign up
New issue

Have a question about this project? Sign up for a free GitHub account to open an issue and contact its maintainers and the community.

By clicking "Sign up for GitHub", you agree to our terms of service and privacy statement. We'll occasionally send you account related emails.

Already on GitHub? Sign in to your account
The profile picture placeholder from the user info card is too small
#4648
Comments
Follow up for #4283
Prerequisites: user has not set a profile picture to their account
STR:
Log in to AMO-dev and select 'View profile' from the user menu
Observe the profile image in the user info card
Actual result:
The profile picture placeholder is much smaller than what is depicted in the mocs
Expected result:
The profile picture placeholder has the same dimensions as displayed in the mocs
Notes:
reproduced on AMO-dev, with FF59, WIn10x64 and Android 7.0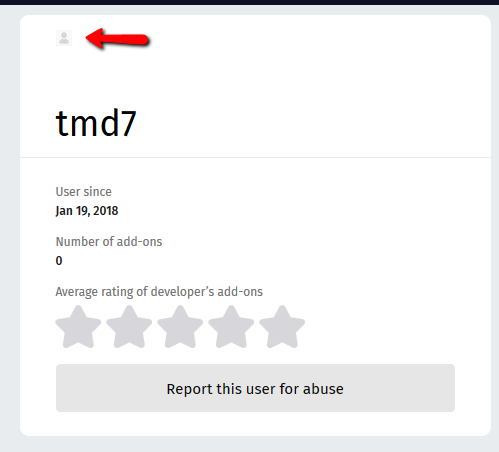 😱 Oops, thanks for catching this, should be an easy fix.
Hey, I would like to work on this issue
Hi @svitlana-galianova, thanks for your interest but I'm going to be taking this issue. 😄 You can have a look at our "contrib: good first bugs" issues to find issues to contribute to.
@tofumatt I should have waited for your response...
It's cool! In the future you should check the "assigned" field in GitHub; if the issue is assigned it's best not to work on it, but I hadn't actually started so it's okay 😄