Join GitHub today
GitHub is home to over 40 million developers working together to host and review code, manage projects, and build software together.
Sign up
New issue

Have a question about this project? Sign up for a free GitHub account to open an issue and contact its maintainers and the community.

By clicking "Sign up for GitHub", you agree to our terms of service and privacy statement. We'll occasionally send you account related emails.

Already on GitHub? Sign in to your account
Helpful jig for drilling clamping hub mounting holes in Traxx wheels
#46
Comments
When the Houston Robotics Mars Rover team began to address the drilling of the mounting holes in the Traxxas wheels, we pondered how we might more accurately accomplish this. Initially we considered a vertical lathed spindle 12mm at the bottom to fit the wheel and 4mm at the top to fit the hub. Rotational orientation would still be by hand and there was concern that using the hub itself as a guide may damage the threads. We consulted the Houston Community College Stafford manufacturing campus Fab Lab supervisor Roland Fields. He suggested a more modern high tech approach of creating a 3D printed jig to fit the wheel hub to include appropriately spaced holes to guide pilot hole drilling. He directed us to lab assistant Frederic Lemme who whipped up a prototype on SolidWorks. After tweaking for fit, a further modification adding a hex nut shape to fit into the wheel ensured fixed alignment of the pilot hole guides to the target area. Houston Robotics' Omar Gomez and son accomplished the final drilling. The screws to attach the wheel to the hub seemed excessively long, but that's an issue for further along the build. ATTACHED is a drawing of the wheel adapter and zip file of the .SLDPRT and .STL files. Copyright 2018 Houston Robotics, free to use with acknowledgement.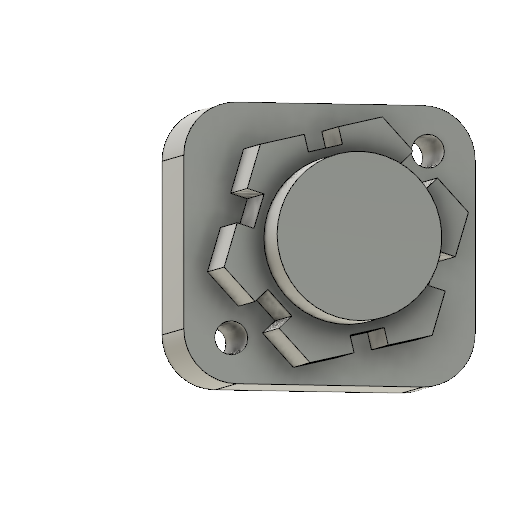 Jim Phelan, Mars Rover project lead, Houston Robotics
wheel_adapter3.zip
Hi @JHPHELAN, yeah actually we have had a couple teams tell us they used some sort of 3D printed jig as a drilling guide to help with this. The main reason I am hesitant to include something like this in the documentation is because of the Traxxas wheels themselves. As they only stock a relatively small number of each wheels it is likely groups have to buy a wheel that is not exactly the same Part suggested. The hubs used the wheels differ from wheel set, however there doesn't seem to be any information on Traxxas as to which exact hub you get on each wheel, meaning one jig likely does not work for everyone.
If we can come up with a way to ensure that either A). Everyone is getting the same wheel hub, or at least know which wheel hub they are getting, or B). Make a jig that could work with all the wheel hubs, I think that would be a great optional thing to print to help teams easier to drilling into the wheels.
Overall though I like your design and idea. It has appropriate centering and clocking features to make the match drilling an easy task
I have added a note in the Wheel assembly build document to link to this issue so others can access and try using your jig! Thanks for the addition, I hope it is helpful for other teams as well :).
Glad we could be of help. Would love to see what other groups made to solve the same issue. Consistency of supplies/suppliers is always an issue. The last remaining par to acquire, one of the pillow blocks, is still on backorder! Fortunately in skilled 3D CAD hands (not mine!) a custom jig was designed in less than an hour and simplified the job greatly.
Used the Wheel adapter yesterday. It worked really well.
I am thinking of using one on each wheel to support the hub better.
Looking at the alignment the wheels could use a 1/4 spacer to put the center of the wheel under the pivot point.
I am also going to try to add grub screws to the hubs to get a better lock on the motor drive shaft.
Any thoughts on using 4 holes to mount the wheels as well.
"Any thoughts on using 4 holes to mount the wheels as well."
According to other builders that are more mechanical engineering minded than I:
Since the two sides of the hub clamp have to move toward each other to grip the shaft, fixing it in place with 4 screws would inhibit that making it "overconstrained."
Jim Phelan
Mars rover project lead, Houston Robotics
@JHPHELAN I printed this last evening, it fits perfectly. Thanks!
NOTE: When I opened the STL in Repetier-Host, the scale was way off (both Mac and Windows). So, I imported the SolidWorks file into Fusion 360, and exported the STL again, and that worked.... just a note for anyone running into similar issues.
I just sent the STL file off to makexyz and it returned a perfect fit. All wheels are mounted now !! working on the rocker boogie next..
…
My "educated guess" is I don't know what I am doing.... but importing and exporting worked for me!!!!
I also used a small set screw drilled through the hub to help with the clamping. The hub still clamps but I did not make the extra cuts in it. If the wheels fall off I'll add a small indent in the shaft to lock the set screw. I only have a dremel and a bench stand at the moment so mechanics are rough.
…
@philwil Could you elaborate? I understand you didn't make the cut, but did you drill through S14 to insert a set screw? I think I am misunderstanding what you wrote...
Wow, for a guy with a "dremel", that's impressive! I have a drill press and I don't think I would try that without first seeing you do it! Nice work!