Join GitHub today
GitHub is home to over 36 million developers working together to host and review code, manage projects, and build software together.
Sign up
New issue

Have a question about this project? Sign up for a free GitHub account to open an issue and contact its maintainers and the community.

By clicking "Sign up for GitHub", you agree to our terms of service and privacy statement. We'll occasionally send you account related emails.

Already on GitHub? Sign in to your account
Enable tests to run on Windows
#1242
Conversation
I checked out the repository, followed the setup instructions and then ran the tests. I saw some errors so I thought that there is something wrong with my setup. After a bit of digging, I found out that my setup of the repository is fine but that some of the tests assume a *nix runtime or specific running external services.
In order to prevent this confusion for future developers, I thought to fix the tests on Windows such that after following all the setup steps, a new developer would get a clean test run and that any tests which can't run on the developer's machine are skipped instead of failed.
Specifically, this pull request implements the following:
The pull request also contains one unrelated fix that I noticed while working:
623f48c: Remove an undefined variable.
For more detail on the changes above, please refer to the commit descriptions.
After applying this PR, following the setup and running the tests will lead to a clean test run on Windows: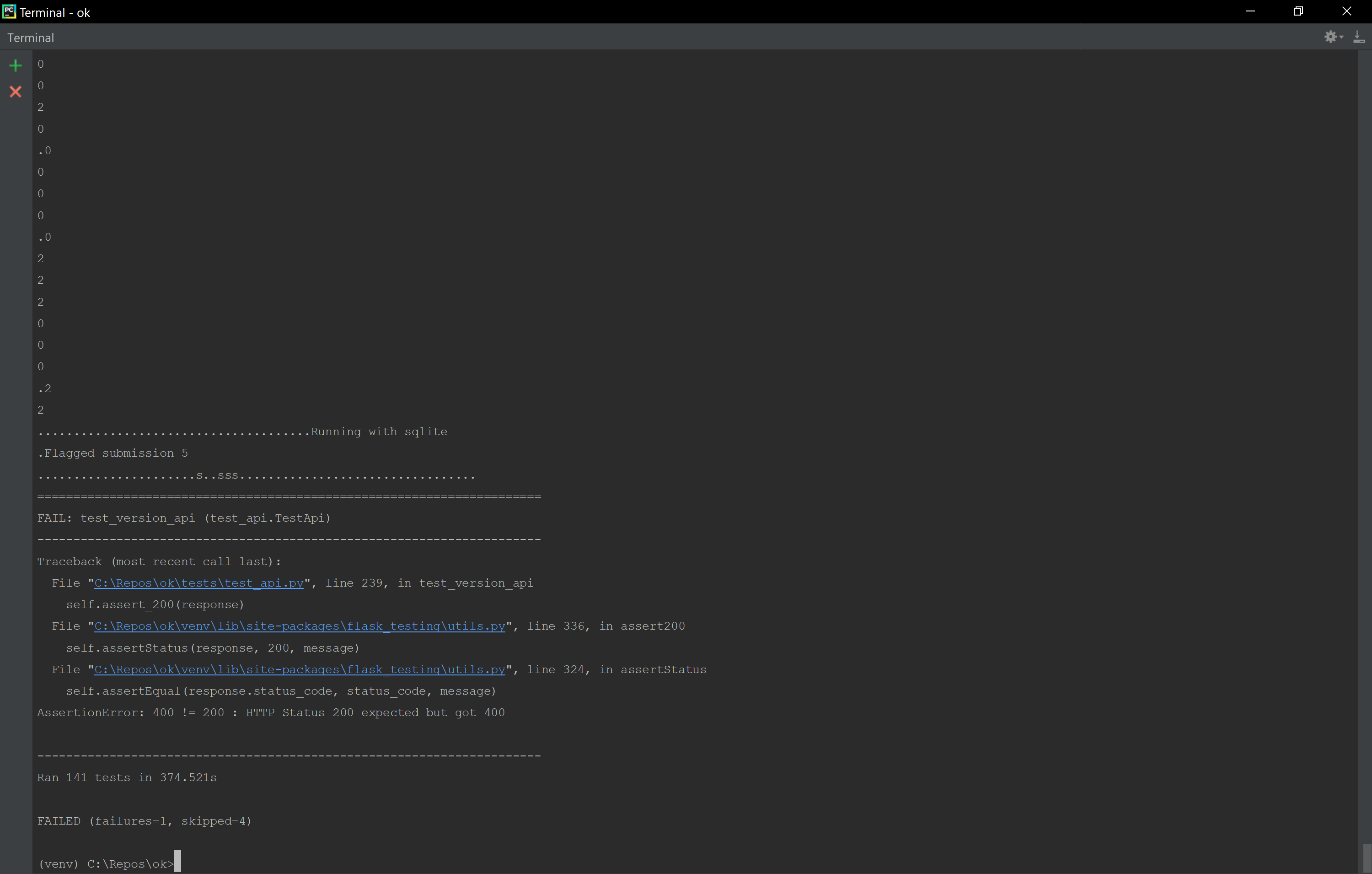 Note that I do still get one error when running the tests (as seen in the screenshot above) but I also see that error when running the tests via Docker on the latest master (see screenshot below), so I'm assuming that this is a known issue and unrelated to my PR.
Thanks for your work on this. Will review ASAP.
Copy link
Contributor
Author
Thanks for the super quick review, @colinschoen. Is there anything else I should be doing before you can merge this?
Nope, this looks great. CircleCI is borked because it is being run from an outside fork instead of a local branch on this repo (tracking at #1243). Will merge in a moment.
@jathak Actually can you merge, we have master protected so I can't even manually merge from the CLI. I think owners should be able to override that.
Thanks @jathak. CircleCI is now passing.
c-w deleted the

c-w:cleanup/c-w/fix-test-run-on-windows

branch Apr 17, 2018
c-w referenced this pull request May 5, 2018
Merged
Add this suggestion to a batch that can be applied as a single commit.
This suggestion is invalid because no changes were made to the code.
Suggestions cannot be applied while the pull request is closed.
Suggestions cannot be applied while viewing a subset of changes.
Only one suggestion per line can be applied in a batch.
Add this suggestion to a batch that can be applied as a single commit.
Applying suggestions on deleted lines is not supported.
You must change the existing code in this line in order to create a valid suggestion.
Outdated suggestions cannot be applied.
This suggestion has been applied or marked resolved.
Suggestions cannot be applied from pending reviews.