Join GitHub today
GitHub is home to over 28 million developers working together to host and review code, manage projects, and build software together.
Sign up
New issue

Have a question about this project? Sign up for a free GitHub account to open an issue and contact its maintainers and the community.

By clicking "Sign up for GitHub", you agree to our terms of service and privacy statement. We'll occasionally send you account related emails.

Already on GitHub? Sign in to your account
How many epochs will be take when training celeba?
#14
Comments
Hi, I'm trying to train a model on celeba datasets with your code. And I trained the model with the command line below:
mpiexec -n 8 python train.py --problem celeba --image_size 256 --n_level 6 --depth 32 --flow_permutation 2 --flow_coupl ing 0 --seed 0 --learntop --lr 0.001 --n_bits_x 5
I just modify the gpu numbers to 8 because I only have a 8 cards server. Now, I have trained for 4days with 1300epochs, however, the results seems not good when I check the example images generate by code. So, could you tell me how many epochs it takes when you trained on celeba dataset? @prafullasd
Same for me, it does not converge to results presented in the article. How long it should be trained?
@voa18105 My result is similar to yours. 1300epoch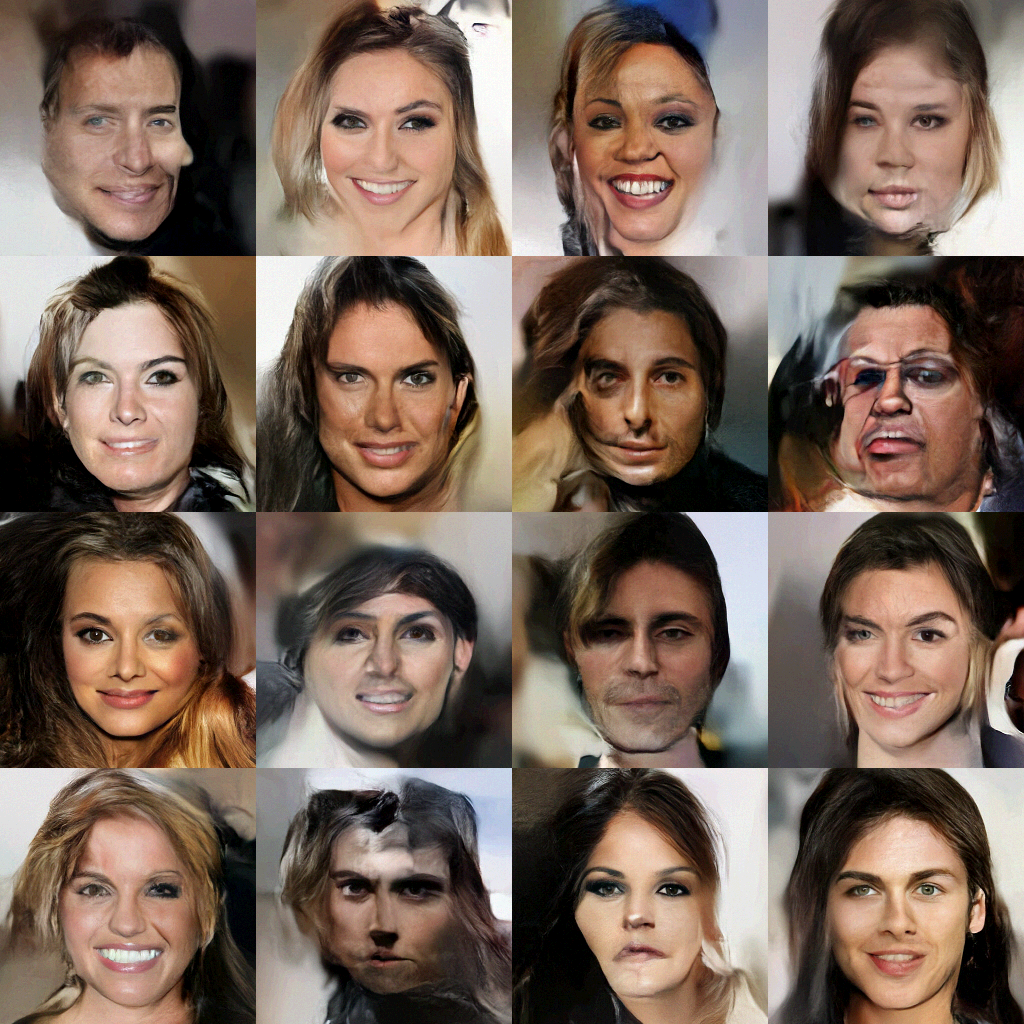 Actually, your's is better. So, it improves.
@voa18105 @weitaoatvison
The samples we show in the paper are after about 4000 training epochs. As shown in figure 8 of the paper the (subjectively) most realistic-looking samples were obtained with lower temperature. The samples from figure 1 are with a temperature of 0.7. The training script creates samples with various temperatures; for teperature 0.7 make sure to look at the right one, namely the files "*_sample_4.png". See https://github.com/openai/glow/blob/master/train.py#L47
P.S. I encourage you to look at temperature=0.7 samples at 1300 epochs. They should look better than the one shown above, which was probably with temperature=1.0.
Cheers