Join GitHub today
GitHub is home to over 40 million developers working together to host and review code, manage projects, and build software together.
Sign up
New issue

Have a question about this project? Sign up for a free GitHub account to open an issue and contact its maintainers and the community.

By clicking "Sign up for GitHub", you agree to our terms of service and privacy statement. We'll occasionally send you account related emails.

Already on GitHub? Sign in to your account
checkInFromUrlAsync generates a bad filename inside the incoming folder
#1006
Comments
BIMServer version / Environment
1.5.150 and 1.5.157 on macOS 10.14, started from .jar release.
Describe the bug
ServiceInterface.checkInFromUrlAsync generates the wrong file name.
To Reproduce
Steps to reproduce the behavior:
Go to the BIMServer Console application;
Use the ServiceInterface to check in a new revision.
Expected behavior
The original file name was 2019-07-16-15-37-25-Villetta [AC21, QTY, 2X4].ifc so the expected file name should be 2019-07-19-15-07-13-933-2019-07-16-15-37-25-Villetta [AC21, QTY, 2X4].ifc (like it was with version 1.5.96) or something similiar (like with checkInFromFile).
Screenshots
Sample call (note that the spaces on the filename are escaped with %20):

checkInFromUrl from BIMvie.ws (it gives a different result)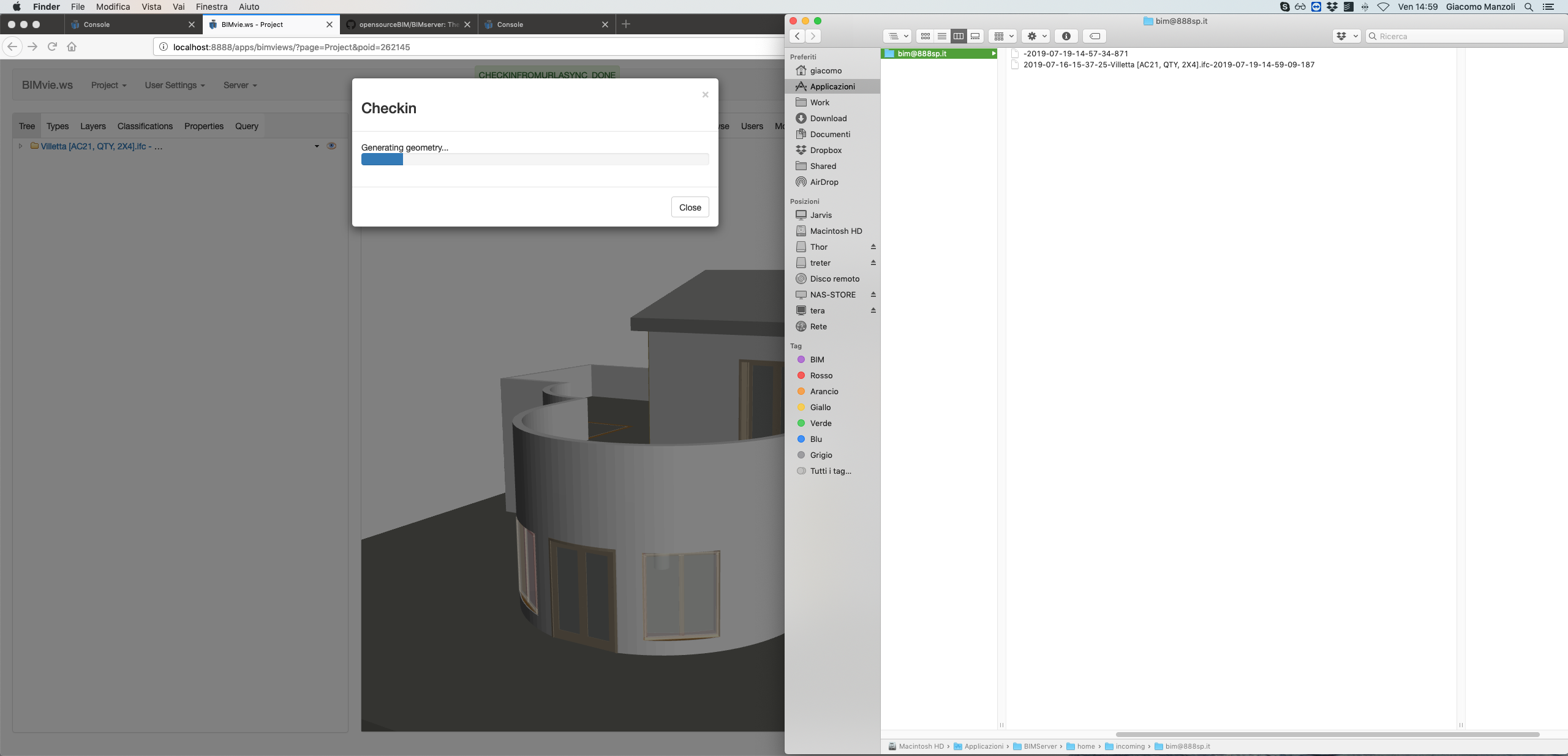 Result with checkInFromFile from BIMvie.ws (it changes the file name since it replaces all the whitespaces with "_")
Additional context
.
Other
it's not critical, but the incoming folder is useful if you have to migrate the project from an installation to another (it's faster to use the original IFC rather then to export the one stored in the database)