This repository has been archived by the owner. It is now read-only.
Join GitHub today
GitHub is home to over 50 million developers working together to host and review code, manage projects, and build software together.
Sign up
GitHub is where the world builds software
Millions of developers and companies build, ship, and maintain their software on GitHub — the largest and most advanced development platform in the world.
Keep line endings outside of component boundaries
#228
Comments
Line endings should be kept entirely outside of the component to which they connect. Allowing line endings to obscure the edge of their component (instead of merely touching it) make for a confusing and less visually pleasing diagram.
The meaning is also less clear when the arrow is allowed inside of the component boundary. For example, in the snapshot below it's hard to tell whether the connection is incoming or outgoing.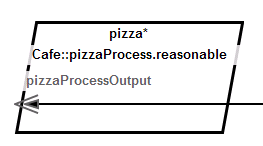 Moving the port to a different side makes it clearer, but the visual collision still looks rough.