New issue

Have a question about this project? Sign up for a free GitHub account to open an issue and contact its maintainers and the community.

By clicking "Sign up for GitHub", you agree to our terms of service and privacy statement. We'll occasionally send you account related emails.

Already on GitHub? Sign in to your account
AADL Navigator: No status bar text for expanded file content and contributed AADL
#1435
Comments
Summary
For files and directories the AADL navigator shows the file path in the status bar. For contributed AADL files and expanded content nodes there is only the icon shown but no text.
Expected and Current Behavior
Looks like this for selected classifier:
Should show text like it does for files: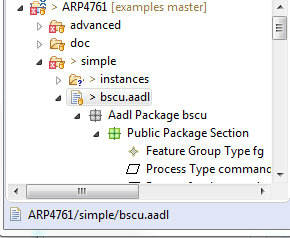 Environment
OSATE Version: 2.3.4
Operating System: all
The text was updated successfully, but these errors were encountered:
The label provider needs to implement some description provider class for this to work.