Join GitHub today
GitHub is home to over 28 million developers working together to host and review code, manage projects, and build software together.
Sign up
New issue

Have a question about this project? Sign up for a free GitHub account to open an issue and contact its maintainers and the community.

By clicking "Sign up for GitHub", you agree to our terms of service and privacy statement. We'll occasionally send you account related emails.

Already on GitHub? Sign in to your account
[Asset] Image Editor: increase size of image that get loaded into the editor
#3723
Comments
Hello,
As Pimcore admin logged in the Pimcore backend, using miniPaint image editor on an image asset, the opened image is not open with the good resolution.
Concequence is that if the image is save just after being opened in the image editor, the new image lost quality as resolution is splitted by a factor 2 it seems.
So if an enduser use the editor, he will degrade the resolution of the assets... : ( (pretty dangerous for system in production, actually the only way to prevent this is to disable temporarly the image editor).
Here is an opened image on the Pimcore demo: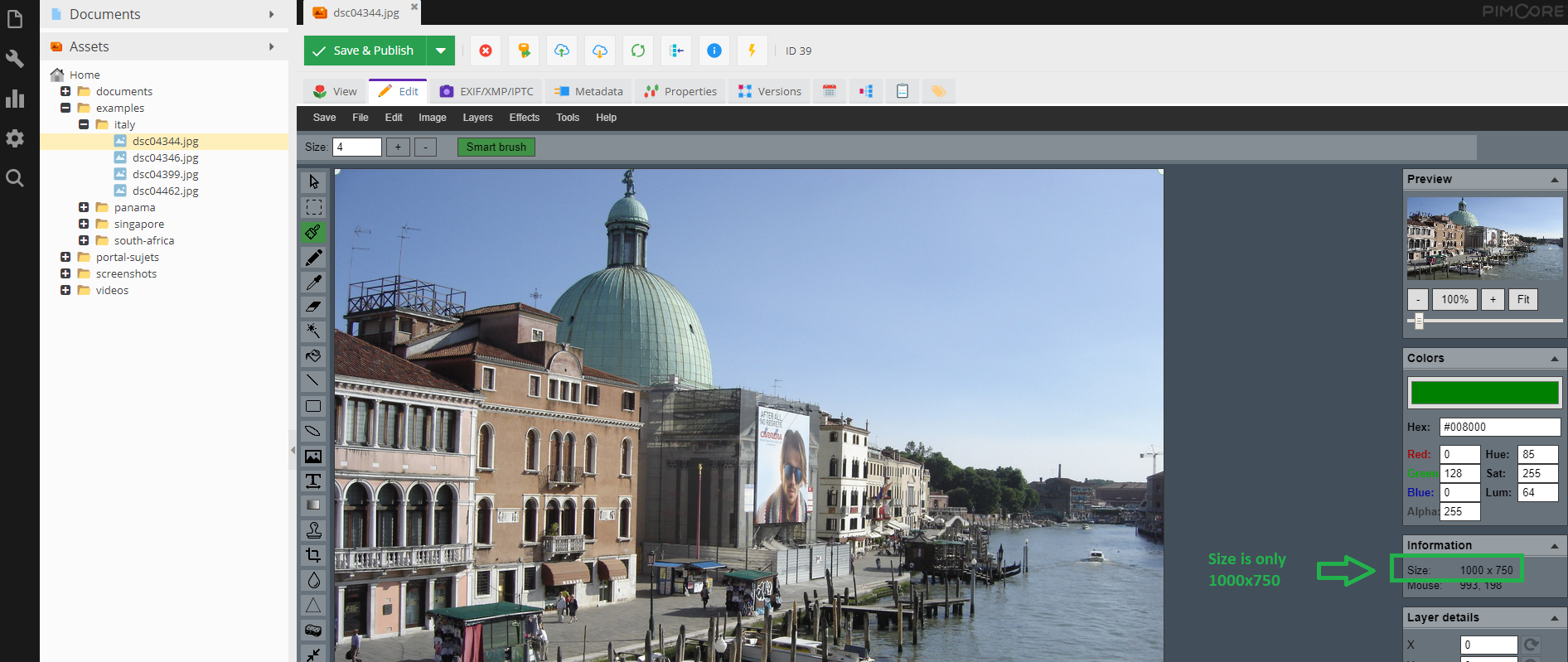 Here is the same image opened in the online demo of miniPaint:
So the problem seems to be on the Pimcore side i think.
Thanks.
brusch changed the title from
[Bug] miniPaint degrade image resolution

to

[Asset] Image Editor: increase size of image that get loaded into the editor

Dec 10, 2018
That's acutally no bug, it is necessary that Pimcore converts images to a smaller size and to a format miniPaint can read. It used to be 1000x1000 pixels at maximum, I've increased it now to 3000x3000 which seems to work on an average PC.
@brusch Thanks for your explaination and fix.
I understand this is a miniPaint limitation. Can i suggest the folowing:
if image is too big to display a message saying "Be carreful: picture was too big and has been reduced to XXX x YYY pixels". Because if user just open the image, make a small modification and save it, he can miss the fact that resolution of the image asset has been reduced.
I really think it would be safer to inform the user via such an alert message, so he doesn't degrate asset resolution unintentionnaly.
Thanks.