Join GitHub today
GitHub is home to over 28 million developers working together to host and review code, manage projects, and build software together.
Sign up
New issue

Have a question about this project? Sign up for a free GitHub account to open an issue and contact its maintainers and the community.

By clicking "Sign up for GitHub", you agree to our terms of service and privacy statement. We'll occasionally send you account related emails.

Already on GitHub? Sign in to your account
Rehearsal mode
#27
Comments
Based on NESdev.com discussion about conveniences for MML composers, I've realized that it's important to allow each song to contain named bookmarks that the player recognizes, so that the user can seek to a given part of the song when revising that part.
Define rehearsal mark syntax for Pently score
Define rehearsal mark bytecode format
Include rehearsal marks in output
Mock screenshot of rehearsal mark list
Switch between song list and this song's rehearsal mark list
Seek to a rehearsal mark
Default song and rehearsal mark when building a ROM
Playback stepping a row at a time
Mock screenshot of tempo and mute controls
Tempo scaling
Track mute/solo
This comment has been minimized.
Practically, it'd have to restrict rehearsal marks to printable Basic Latin (code points U+0020 to U+007E) and 15 per song.
Mockup of rehearsal mode with transport controls. The keyboard has 3 horizontal pixels per semitone: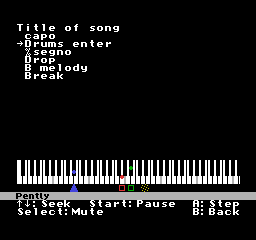 Up/Down: Seek (to rehearsal mark)
Start: Pause
A: Step (advance one row)
Select: Mute (go to mode in which to select tracks on which to ignore note-ons)
B: Back
Still need graphics and button bindings for mute mode.
Visualization symbols on and below the keyboard:

Tiles for 2 octaves of a keyboard and visualization symbols:

Sprite palette when vis is enabled:
$3F11: Pulse 1 color (red, or white for injection)
$3F12: Noise color (light gray, or yellow for looped noise)
$3F15: Pulse 2 color (green, or white for injection)
$3F19: Triangle color (blue, or white for injection)