Join GitHub today
GitHub is home to over 28 million developers working together to host and review code, manage projects, and build software together.
Sign up
New issue

Have a question about this project? Sign up for a free GitHub account to open an issue and contact its maintainers and the community.

By clicking "Sign up for GitHub", you agree to our terms of service and privacy statement. We'll occasionally send you account related emails.

Already on GitHub? Sign in to your account
Scroll bars for icons on HUD cover icons/items and are unnecessary
#4468
Comments
Observed behaviour
Three icons/indicators on the HUD show scroll bars (see screenshot) that cover half of the icon and are pretty much useless. I'm sure they are not intended to be there?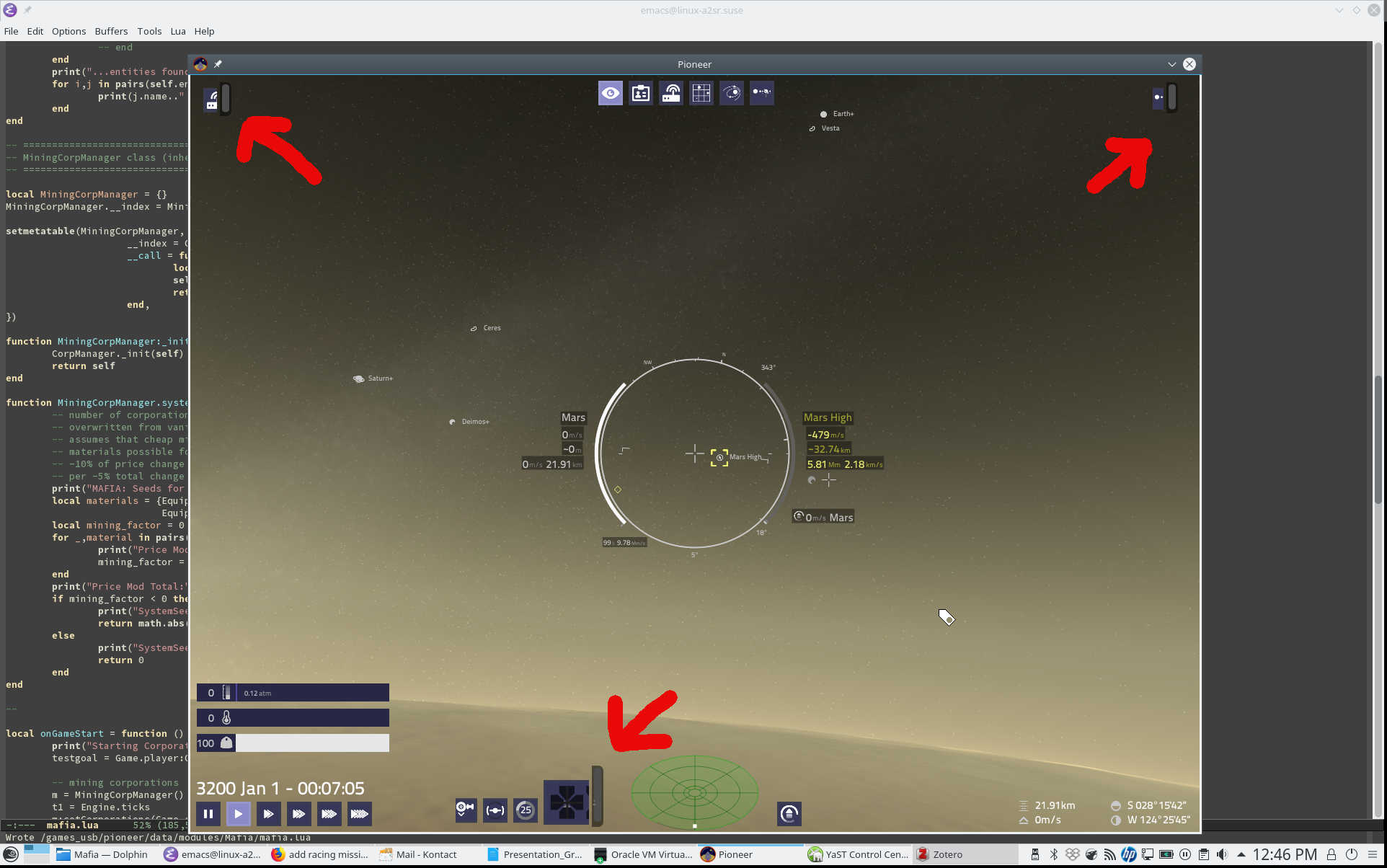 Expected behaviour
No scrollbars for items on the screen that don't need them.
Steps to reproduce
Start on Mars (or probably anywhere?). The first two covered icons are visible right from the start, the other becomes visible when you start flying and open the F4 window.
My pioneer version (and OS):
OS: openSUSE 43.2
Pioneer: built from latest git files (42dc2be)
What's the resolution of the game?
I have the same problem although the scroll bars are at different places than those shown in the screenshot above, resolution: 1360 x 768
Good question, @nozmajner. I have tried at different resolutions now (1600x1200, 1400x1050, 1280x1024, 1024x768) and I get the scroll bars at different places, depending on which resolution I use. But they are always there at least in some areas. Also, the start screen menu does not resize with a resolution change and only displays correctly at 1024x768. With increasing resolution, more and more of the start menu is hidden and needs to be accessed by a scroll bar (which looks really ugly).
Looks like the static ui.screenHeight finally strikes. I was wondering when that was going to happen.
This is something that's going to take some fairly significant design work to properly resolve, but the good news is that it's fairly easy to work around it by adjusting the constants in the appropriate Lua UI code.
If someone wants to take a crack at this, your best shot is going to be tracking down which Lua file draws these elements (in data/pigui/modules) and adjusting the constant sizes near the top of the file. I'm not going to be available to fix this myself for a while, but anyone else is welcome to it.
Isn't ui.screenHeight a function though? It gets mapped to l_attr_screen_height in LuaPiGui.cpp in pigui.lua so every call to it should be getting the real screen height from the C++ code.
Which works fine until you realize that it's usually called once at the top of a Lua file and then never called again. There are some issues with the UI code I really want to resolve, and this is one of them.