New issue

Have a question about this project? Sign up for a free GitHub account to open an issue and contact its maintainers and the community.

By clicking "Sign up for GitHub", you agree to our terms of service and privacy statement. We'll occasionally send you account related emails.

Already on GitHub? Sign in to your account
Automatically regenerate admin menus when needed
#268
Comments
Short description of the enhancement
The first level of dropdown menu items in the admin (and the main menu?) are cached. This request is that the cache be cleared and the menu markup regenerated whenever an action is performed in admin that will result in menu items being added or removed.
For example, in the "Pages" menu dropdown the "Add New", "Find" and "Recent" items are included or not included in the menu for users with a role depending on the permissions given to that role.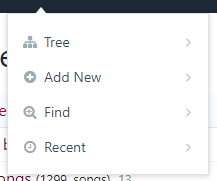 When developing a site and setting up permissions for a role I keep an incognito window open with a test user of that role logged in, so I can check the effects of the permission changes as I make them. I'd like to be able to grant or remove permissions and see the related menu changes applied immediately without needing to log out and back in again, or do any other manual cache clearing if possible.
The text was updated successfully, but these errors were encountered:
We are unable to convert the task to an issue at this time. Please try again.