Join GitHub today
GitHub is home to over 40 million developers working together to host and review code, manage projects, and build software together.
Sign up
New issue

Have a question about this project? Sign up for a free GitHub account to open an issue and contact its maintainers and the community.

By clicking "Sign up for GitHub", you agree to our terms of service and privacy statement. We'll occasionally send you account related emails.

Already on GitHub? Sign in to your account
Fix map position to above in mobile responsiveness
#5754
Conversation
Fixes #5707 part (<=== Add issue number here)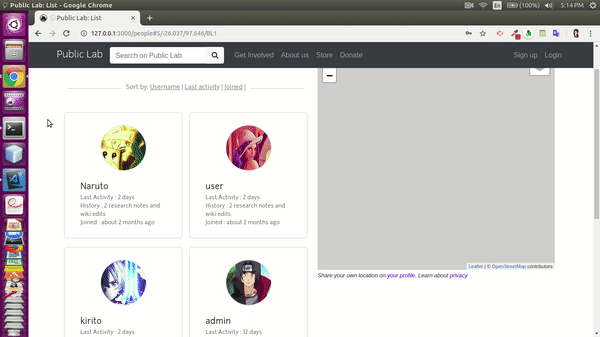 PR is descriptively titled 📑 and links the original issue above 🔗
tests pass -- look for a green checkbox ✔️ a few minutes after opening your PR -- or run tests locally with rake test
code is in uniquely-named feature branch and has no merge conflicts 📁
screenshots/GIFs are attached 📎 in case of UI updation
ask @publiclab/reviewers for help, in a comment below
CleverFool77 changed the title Fix map position in mobile responsiveness May 21, 2019
| | 1 Warning |
| --- | --- |
| ⚠️ | It looks like you merged from master in this pull request. Please rebase to get rid of the merge commits – you may want to rewind the master branch and rebase instead of merging in from master, which can cause problems when accepting new code! |
| | 2 Messages |
| --- | --- |
| 📖 | @CleverFool77 Thank you for your pull request! I'm here to help with some tips and recommendations. Please take a look at the list provided and help us review and accept your contribution! And don't be discouraged if you see errors – we're here to help. |
| 📖 | This pull request doesn't link to a issue number. Please refer to the issue it fixes (if any) in the body of your PR, in the format: Fixes #123. |
Generated by 🚫 Danger
Hi @jywarren After fixing the horizontal cards , we can go for this PR.
Thanks !!!
Hi @jywarren This is ready for merge.
thanks !!!!
CleverFool77
referenced this pull request
May 27, 2019
Add this suggestion to a batch that can be applied as a single commit.
This suggestion is invalid because no changes were made to the code.
Suggestions cannot be applied while the pull request is closed.
Suggestions cannot be applied while viewing a subset of changes.
Only one suggestion per line can be applied in a batch.
Add this suggestion to a batch that can be applied as a single commit.
Applying suggestions on deleted lines is not supported.
You must change the existing code in this line in order to create a valid suggestion.
Outdated suggestions cannot be applied.
This suggestion has been applied or marked resolved.
Suggestions cannot be applied from pending reviews.