React Native Video Player Recorder No Linking
This package provide a video player component that you can drop into your application. It does not require linking to native code, so it is suitable for React Native applications built using Expo.
Click to view a demo video of the component in action.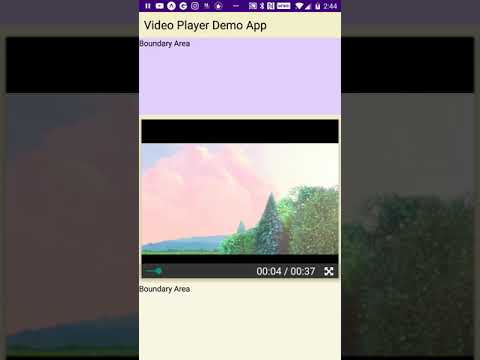 Why Use This?

This module is useful if you need drop in video player for an application in which using platform specific native code is prohibited; for example an application created using expo.io.
Why Not Use This?

You are not prohibited from using native code, and can find a better module to use. One option is react-native-video
Installation

npm install --save react-native-video-player-no-linking
Usage

import VideoPlayer from 'react-native-video-player-no-linking';
Example

This component passes through several of the properties used by the Expo Video component Please see that component's documentation for further details.

All properties are optional unless otherwise noted.
<

VideoPlayer
  videoProps

=

{{
    shouldPlay

:

 

true

, 

//

 Boolean: indicates whether  the video should begin playing immediately
    source

:

 {
      uri

:

 

URI

 

//

 String (Required): path to the source video
    }
  }}
  toggleFullScreenCallback

=

{

this

.

toggleFullScreenCallback

} 

//

 Function: callback function called when the user selects fulscreen video.  Use this callback to hide components that should not be displayed in fullscreen mode
  playCompleteCallback

=

{() 

=>

 {
    

console

.

log

(

'

play complete

'

);
  }}
  showTimeStamp

=

{

true

} 

//

 Boolean: show the play timestamp
  playerPadding

=

{

10

} 

//

 Number: place padding around the player
  

//

 These properities are directly inherited from the Expo Video Component
  rate

=

{

1.0

}
  volume

=

{

1.0

}
  isMuted

=

{

false

}
  shouldPlay

=

{

false

}
  isLooping

=

{

false

}


/

>
Changelog
1.0.0 First functional version