Document your code
Every project on GitHub comes with a version-controlled wiki to give your documentation the high level of care it deserves. It's easy to create well-maintained, Markdown or rich text documentation alongside your code.
Sign up for free
See pricing for teams and enterprises
Home
This is the xpcockpit Project
by Reto Stockli, supported by Hans Jansen
Overview
XPCockpit enables you to connect custom hardware to X-Plane by use of a C library which allows to subscribe to X-Plane datarefs and commands. The currently supported hardware encompasses most OpenCockpits cards and Leo Bodnar's BU0836X/A cards. The project also includes a glass cockpit software which is a further development of the OpenGC project for Boeing 737 and Airbus 320.
The project consists of four components
xpserver: the plugin to X-Plane which handles dataref/command I/O via TCP/IP
xpclient: a sample client software to show how to subscribe and use datarefs
xpusb: the actual client which interacts with OpenCockpits/Leo Bodnar's Hardware
xpopengc: the glass cockpit software client that simulates B737/A320 Gauges
The project is aimed at the following crowd:
X-Plane users working on Linux or OSX
People who want to build their own home cockpits
People with some programming exercise
Friends of good wine and cheese
Schematic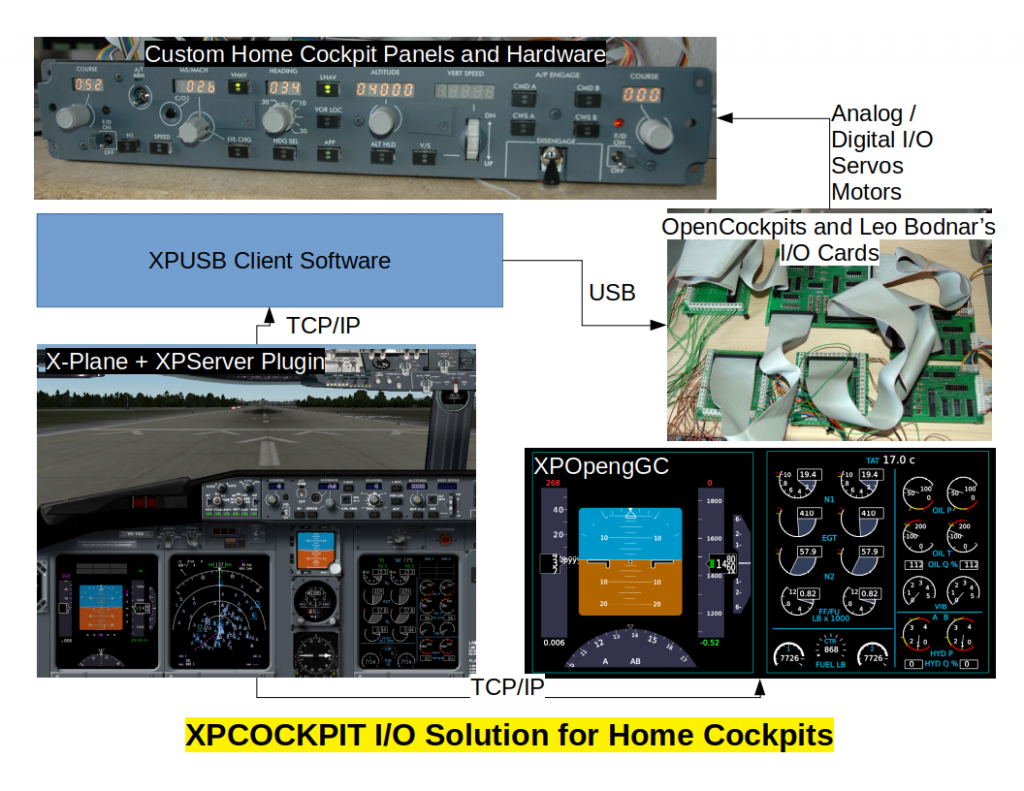 Requirements
Linux or OSX (Tested on Ubuntu 18.04, not been tested since 2016 on OSX)
c/c++ compiler like gcc
autoconf / automake
one of the OpenCockpits or Leo Bodnar's Cards
X-Plane on Linux or OSX
some C programming experience (entry level)
some time and fun and wine and cheese
Wanted
Window Developer and Home Cockpit Builder who would be willing to adapt our code to Windows!
Status
Supported X-Plane Features:
Only Mac and Linux
all datarefs
all commands
all native X-Plane data types
TCP/IP-based dataref I/O btw X-Plane and clients
Only subscribed and changed datarefs are sent (low network overhead)
UDP-driven WXR data to the navigation display of xpopengc
Automatic re-connect after X-Plane restart or client restart
support for most of the EADT x737 and ZIBO Mod functions
Supported Hardware
OpenCockpits USB Expansion Card with up to 4 master cards
OpenCockpits USB Keys
OpenCockpits USB Servos
OpenCockpits USB DCMotors Plus
OpenCockpits USB Analog Axes
Leo Bodnar BU0836X/A
Example Imagery
Examples and more pictures of the cockpit building process can be found on My Website