Document your code
Every project on GitHub comes with a version-controlled wiki to give your documentation the high level of care it deserves. It's easy to create well-maintained, Markdown or rich text documentation alongside your code.
Sign up for free
See pricing for teams and enterprises
Music
Music Plugin Configuration
Adds search and filter for the music list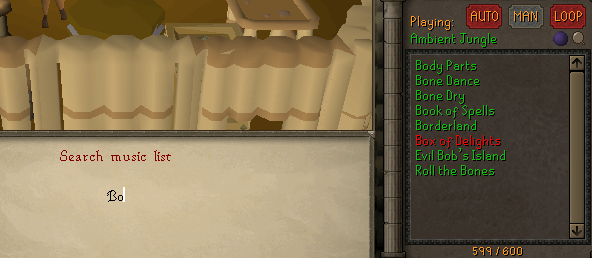 The plugin will also allow you to control the in-game volume with more granularity.
Usage
Clicking on the status button will cycle through displaying unlocked, locked, and all music tracks. Clicking on the search button will open a search dialog which will filter the visible music tracks based on the input.
Settings
1. Mute others' area sounds
(Default Off) Mute area sounds caused by other players
Please join our Discord if you notice anything wrong or would like to discuss an addition to the wiki.
Table of Contents
User Guide
Developer's Guide

Setting up development environment
Using Git with RuneLite
Clone this wiki locally