Join GitHub today
GitHub is home to over 40 million developers working together to host and review code, manage projects, and build software together.
Sign up
New issue

Have a question about this project? Sign up for a free GitHub account to open an issue and contact its maintainers and the community.

By clicking "Sign up for GitHub", you agree to our terms of service and privacy statement. We'll occasionally send you account related emails.

Already on GitHub? Sign in to your account
Windows version of PyMOL Open Source has almost invisible structures on initialization
#15
Comments
On my computer, I have installed both PyMOL 2.2.0 and 2.3.0a0 for Python 3.6 and 3.7 (one at a time) on Windows 10 and the problem below showed.
(https://www.lfd.uci.edu/~gohlke/pythonlibs/#pymol)
However, like the image below, I can see that the structure is greatly dimmed and almost invisible. On another computer using the same procedures for installation, the structure is bright like other normal computers.
If I type in ray, the below picture shows.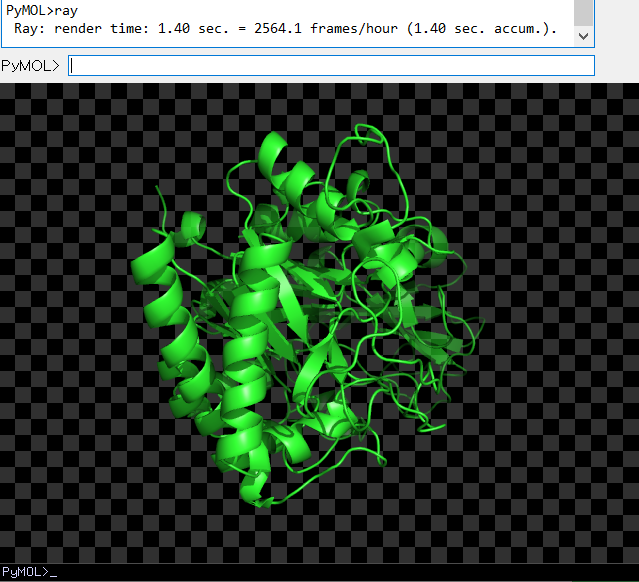 And the structure goes back to the dimmed state if I move it.
However, if I click Reinitialize --> Original Settings, the structure becomes normal.
If I click Reinitialize --> Everything and reload the file, it goes back to the first greatly dimmed state.
This problem occurs on a different Python version installation, different PyMOL installation, and after reinstalling everything. The protein structure file input did not matter for this at all. On another computer with the exact same installation procedures, it is normal. The only difference was that the computer with this problem had the Commercial PyMOL installed before, but uninstalled after.
What is wrong with the settings I have right now, and what should I do to get the default back to Original Settings, instead of having to do Reinitialize --> Original Settings every time?
I need the real solution of this problem, I know how to put reinitialize original_settings in pymolrc. This is not a pretty solution.
The problem is the Intel Graphics Driver version 24.20.100.*
The correct workaround: set precomputed_lighting
The correct solution: Downgrade your Intel graphics driver or wait for Intel to fix it in a new version.
The issue was address in commit b97a53f by blacklisting the driver version.
 Detected OpenGL version 4.5. Shaders available.
 Detected GLSL version 4.50.
 OpenGL graphics engine:
  GL_VENDOR:   Intel
  GL_RENDERER: Intel(R) HD Graphics 620
  GL_VERSION:  4.5.0 - Build 25.20.100.6444

This driver also causes this. Please reference.
Thank you @smkm! We will add your driver version to the blacklist.