Join GitHub today
GitHub is home to over 31 million developers working together to host and review code, manage projects, and build software together.
Sign up
New issue

Have a question about this project? Sign up for a free GitHub account to open an issue and contact its maintainers and the community.

By clicking "Sign up for GitHub", you agree to our terms of service and privacy statement. We'll occasionally send you account related emails.

Already on GitHub? Sign in to your account
use divs instead of ul li to avoid GitHub styling
#2233
Conversation
Problem (issue #1765): Our Ext debug menu is showing a bullet point due to GitHub's css styling the li.
Solution: Use divs instead of ul > li to avoid external styling and also improve the appearance of the menu from this: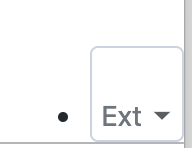 to this:

Merging #2233 into master will increase coverage by <.01%.
The diff coverage is n/a.
@@ -16,6 +16,7 @@ All notable changes to Sourcegraph are documented in this file.

-

File match search results now show full repo name if there are results from mirrors on different code hosts (e.g. github.com/sourcegraph/sourcegraph and gitlab.com/sourcegraph/sourcegraph)



###

Fixed

-

The extension debug menu no longer shows a bullet point.
Add this suggestion to a batch that can be applied as a single commit.
This suggestion is invalid because no changes were made to the code.
Suggestions cannot be applied while the pull request is closed.
Suggestions cannot be applied while viewing a subset of changes.
Only one suggestion per line can be applied in a batch.
Add this suggestion to a batch that can be applied as a single commit.
Applying suggestions on deleted lines is not supported.
You must change the existing code in this line in order to create a valid suggestion.
Outdated suggestions cannot be applied.
This suggestion has been applied or marked resolved.
Suggestions cannot be applied from pending reviews.