Join GitHub today
GitHub is home to over 31 million developers working together to host and review code, manage projects, and build software together.
Sign up
New issue

Have a question about this project? Sign up for a free GitHub account to open an issue and contact its maintainers and the community.

By clicking "Sign up for GitHub", you agree to our terms of service and privacy statement. We'll occasionally send you account related emails.

Already on GitHub? Sign in to your account
Combobox initial dropdown state
#650
Comments
Copy link
Contributor
Author
Time to move to .NET Standard/.NET Core ? ;-) ;-)
Hope to see it soon fixed, as this is really a basic control.... Not expecting to still see such bugs in GTK+...
@wstaelens If you read the bug discussion that @ice0 linked the developers say it's "intended design" so they will never "fix" it. 😕
Edit: I searched a bit more as I couldn't believe that it was such a design feature to ignore it, and it seems theyve been locking their older repository and moving the bugs to gitlab, so the bug is still considered a bug and it's at least healthy important so it might be resolved in the future, thank goodness https://gitlab.gnome.org/GNOME/gtk/issues/270
Edit 2: Still it says a lot that the bug has been around for almost 12 years without anyone fixing it.... 😩
As a workaround, we can move the default value to the bottom of the list. @morevnaproject, what do you think?
Copy link
Contributor
Author
I think it would be better to bomb that gitlab bug ticket so that it gets some attention and hopefully a fix.
Interesting information from http://libregraphicsworld.org/blog/entry/week-recap-23-december-2018 -
Kevin Stoffler contributed a patch that works around the design decision of GTK+ developers regarding drop-down lists. Instead of always showing the currently selected item of a drop-down list under the cursor (at the cost of showing a lot of blank space above), GIMP now renders the whole list in a much nicer way (while losing the item selection). The patch was applied to both unit selection and blend mode selection. Smaller UX changes involve things like keeping aspect by default when scaling with the Unified Transform tool.
Test done ok
Add this line in /synfig-studio/src/gui/widgets/widget_enum.cpp (line 65)
this->set_wrap_width(1); //#650
As a result, depending the size and the position of the window, the default value may not be selected by default.


We could also change the value to have a tabular display (I used 4 here).
The drawback: it affects any Widget_Enum (for now)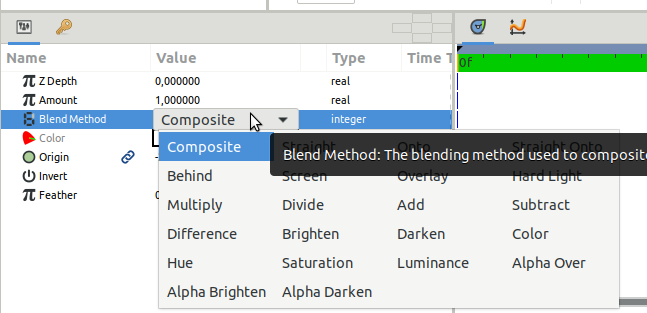 The change is applied now. Thanks to everyone for participation!