Join GitHub today
GitHub is home to over 31 million developers working together to host and review code, manage projects, and build software together.
Sign up
New issue

Have a question about this project? Sign up for a free GitHub account to open an issue and contact its maintainers and the community.

By clicking "Sign up for GitHub", you agree to our terms of service and privacy statement. We'll occasionally send you account related emails.

Already on GitHub? Sign in to your account
Increase initial conference list from 150 to 600
#430
Conversation
I would like to increase the amount of conferences which are initially loaded from 150 to 600. Currently you can just see conferences for the next 2 months. The load more button is also not very large and the page doesn't load more conferences when you hit the bottom of the page.
I think increasing the initial load would be an acceptable quick fix. The payload from Algolia would be about 100KB (currently the payload is about 25KB). That shouldn't impact the performance too much. Most of the content Algolia sends is nevertheless not used.
It should be fine, my only worry is for google crawlers. I don't know how much they wait for JS to load.
But we can try, if I see google trafic going down will change that :)
Actually, thinking about it more, it would still increase the load time by 4 (thinking about slow connexions / 3G). I think we should rather implement an auto load or stylé the button to be more visible.
I'm fine with either solution. I've also optimised the Algolia search result and it now only includes the properties which are displayed on the website. The load time wouldn't increase by 4. The page currently loads ~284KB. The Algolia query results is 17KB large. The optimised JSON with all conferences is now 56KB large. So instead of 5% of the loaded resources it would be 19%. At least for a cold cache. The size of the json could be reduced by another 1/3 by removing the _highlightResult property. But I don't know if that's possible and how that would impact the real load times.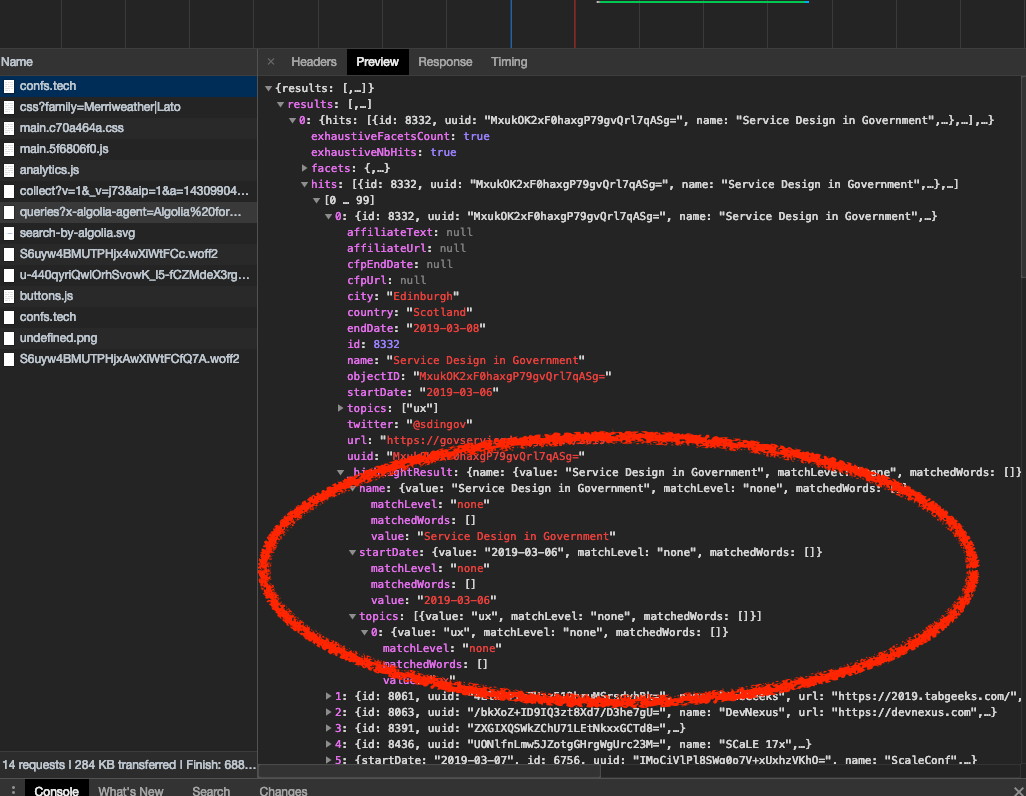 Oh I see. Thanks for the details Christian!
Let's move forward with that then 👍🏼
cgrail deleted the

IncreaseInitialHitsPerpage

branch Mar 7, 2019
Add this suggestion to a batch that can be applied as a single commit.
This suggestion is invalid because no changes were made to the code.
Suggestions cannot be applied while the pull request is closed.
Suggestions cannot be applied while viewing a subset of changes.
Only one suggestion per line can be applied in a batch.
Add this suggestion to a batch that can be applied as a single commit.
Applying suggestions on deleted lines is not supported.
You must change the existing code in this line in order to create a valid suggestion.
Outdated suggestions cannot be applied.
This suggestion has been applied or marked resolved.
Suggestions cannot be applied from pending reviews.