Status of the Project

TensorBase hasn't been updated for a while. Thanks for all friends' concern and inquiries, we reply as follows:

TensorBase hopes the open source not become a copy game. TensorBase has a clear-cut opposition to fork communities, repeat wheels, or hack traffics for so-called reputations (like Github stars). After thoughts, we decided to temporarily leave the general data warehousing field.

Here, let's recap all the world's first of TensorBase:
For people looking for production level data warehouse solution, we still recommend ClickHouse. We wish that ClickHouse can learn from these work and evolve itself to better.
For people who want to learn how a database system can be built up, or how to apply modern Rust to the high performance field, or embed a lightweight data analysis system into your own big one. You can still try, ask or contribute to TensorBase. The committers are still around the community. We will help you in all kinds of interesting things pursued in the project by us and maybe you. We still maintain the project to look forward to meeting more database geniuses in this world, although no new feature will be added in the near future.
The core team of TensorBase has moved to another new type of domain-specific database. We are hiring!
---
What is TensorBase
TensorBase is a new big data warehousing with modern efforts.
TensorBase is building on top of Rust, Apache Arrow and Arrow DataFusion.
TensorBase hopes to change the status quo of bigdata system as follows:
Features
Architecture (in 10,000 meters altitude)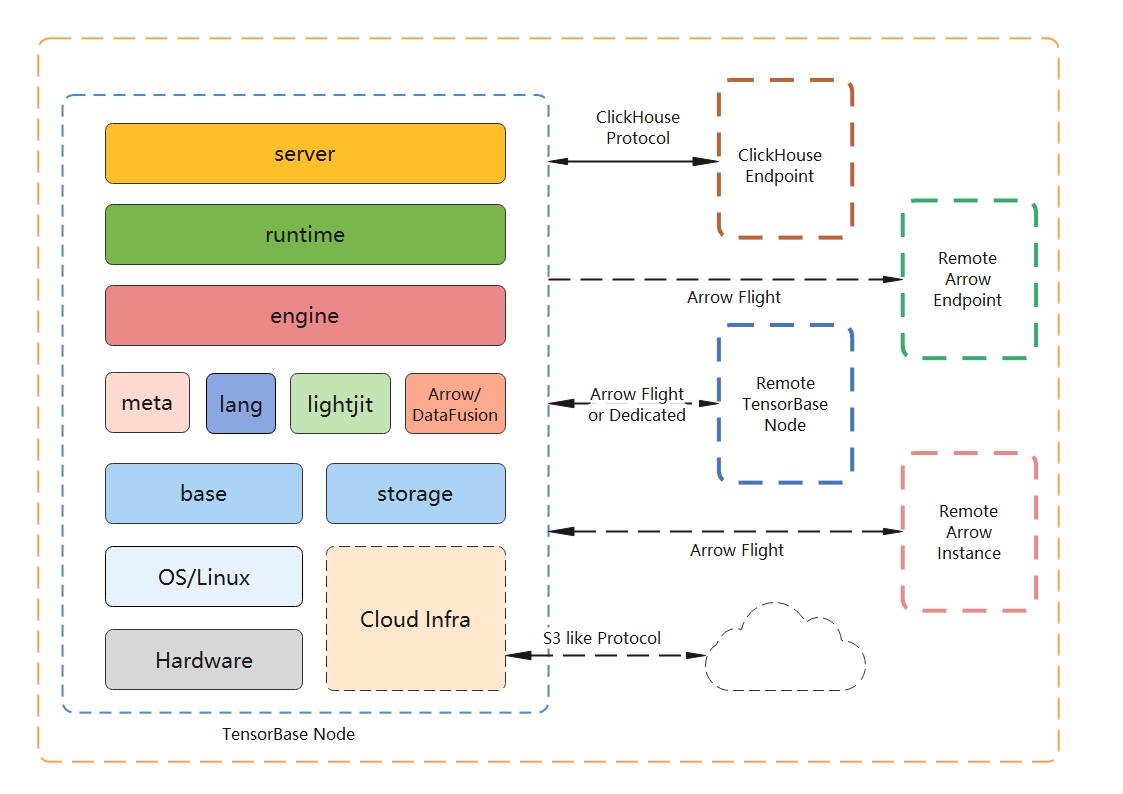 Quick Start
Benchmarks

TensorBase is lighting fast. TensorBase has shown better performance than that of ClickHouse in simple aggregation query on 1.47-billion rows NYC Taxi Dataset.

TensorBase has enabled full workflow for TPC-H benchmarks from data ingestion to query.

More detail about all benchmarks seen in benchmarks.
Roadmap
Community Newsletters
Working Groups
Working Group - Engineering

This is a wg for engineering related topics, like codes or features.
Working Group - Database

This is a higher kind wg for database related topics, like ideas from papers.

Join these working groups on the Discussions or on Discord server.
Communications

Wechat group or other more are on community
Contributing

We have a great contributing guide in the Contributing.
Documents (WIP)

More documents will be prepared soon.

Read the Documents.
License

TensorBase is distributed under the terms of the Apache License (Version 2.0), which is a commercial-friendly open source license.

It is greatly appreciated that,

Your encouragements and helps can make more people realize the value of the project, and motivate the developers and contributors of TensorBase to move forward.

See LICENSE for details.