Join GitHub today
GitHub is home to over 31 million developers working together to host and review code, manage projects, and build software together.
Sign up
New issue

Have a question about this project? Sign up for a free GitHub account to open an issue and contact its maintainers and the community.

By clicking "Sign up for GitHub", you agree to our terms of service and privacy statement. We'll occasionally send you account related emails.

Already on GitHub? Sign in to your account
Added visualizations for variables ordered by observations. E.g. marker genes ordered by cluster
#175
Conversation
This PR adds extra functionality to pl.violin adding the option produce stacked violin plots for each key passed. The new optional boolean argument stripplot was added to add/remove the stripplot on top of the violin plots. An example image is: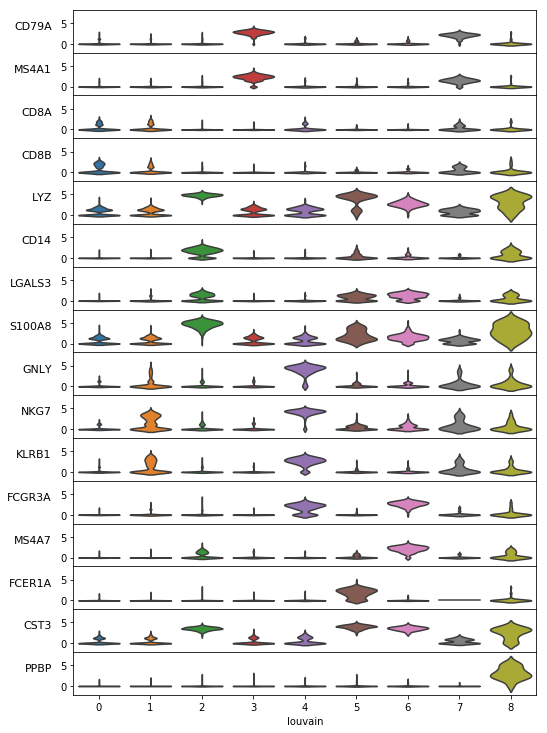 Similarly, I added pl.heatmap that plots variables ordered by an observation as follows:
An example notebook using these visualizations is here
Wow! Again simply awesome! 😄
PS: Sorry for the late response, I was on holidays.
1 check passed
continuous-integration/travis-ci/pr The Travis CI build passed
Details
fidelram deleted the

fidelram:multi_violin

branch Jun 20, 2018
Add this suggestion to a batch that can be applied as a single commit.
This suggestion is invalid because no changes were made to the code.
Suggestions cannot be applied while the pull request is closed.
Suggestions cannot be applied while viewing a subset of changes.
Only one suggestion per line can be applied in a batch.
Add this suggestion to a batch that can be applied as a single commit.
Applying suggestions on deleted lines is not supported.
You must change the existing code in this line in order to create a valid suggestion.
Outdated suggestions cannot be applied.
This suggestion has been applied or marked resolved.
Suggestions cannot be applied from pending reviews.