Smelvetica

Smelvetica is Helvetica for your best friends, or your worst enemies.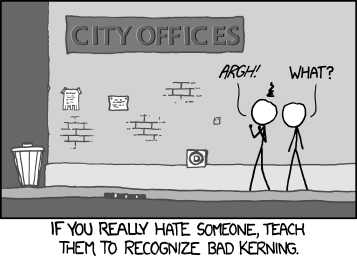 (kerning, from XKCD)
What is it?

Smelvetica is a craftily edited version of the infamously robust Helvetica. The kerning has been specially altered, to be ... well, bad, terrible, awful and painful.

Here are some examples:
Twitter on Smelvetica
Quora on Smelvetica
Tumblr on Smelvetica
How do I install it?

Installing Smelvetica on your system (mac only, at the moment) means that all renderings of Helvetica will use Smelvetica, including websites and applications. The installation is fairly simple!
Download Smelvetica from here.

Move it somewhere relatively hidden

Open the file in fontbook (double clicking should do it)

Click "install"
The system will say there has been problems with the font during validation (this is Helvetica holding on for dear life). Click the checkbox, and press "install checked"
That should be it. Watch your target be confused, and frustrated... but ultimately have to live with it. If you see anything like the image below, choose manual resolve. Automatic resolve will put the old Helvetica back in charge.
Built by

License/Acknowledgements

Naturally, these aren't endorsed by... well, anyone.

Copyright (c) 2017 Tim Holman - http://tholman.com

The MIT License