Join GitHub today
GitHub is home to over 31 million developers working together to host and review code, manage projects, and build software together.
Sign up
New issue

Have a question about this project? Sign up for a free GitHub account to open an issue and contact its maintainers and the community.

By clicking "Sign up for GitHub", you agree to our terms of service and privacy statement. We'll occasionally send you account related emails.

Already on GitHub? Sign in to your account
Local and federated timelines are stuck for only one user
#8824
Comments
Hello! I'm the admin for social.illegalpornography.com. I was on the cutting edge master branch release for a while, but this problem turned up after I went back to v2.5.0, which is what I'm currently running. I've tried restarting Docker a couple times, and also run the mastodon:feeds:clear_all and mastodon:feeds:build rake tasks. These didn't help.
The local timeline hasn't updated all day, and is showing me incredibly old posts. If I make a post, it will briefly show up in in the local timeline before disappearing on the next refresh. I see this issue in the desktop web interface, the mobile web interface, and Tusky. This only happens on my account on this instance. The left image below is what I see on the bugged account, the one on the right is what I see from a different, non-bugged account on the same instance.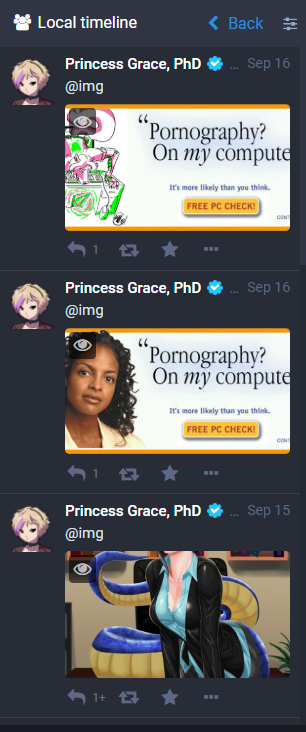 The federated timeline is similar, except there's a slow trickle of posts that reach the bugged account. Is there anything I can do to fix this?
---
I searched or browsed the repo's other issues to ensure this is not a duplicate.
This bug happens on a tagged release and not on master (If you're a user, don't worry about this).
Oh, I also recently moved my site from ~/mastodon to /mnt/mountname/mastodon, if that's been known to cause problems.
Do you guys need anything else from me, or does the closing mean I'm not getting any help here?
@Kansattica Have you ever managed to solve this issue? I have ran into a very similar situation
The same situation is happening on another instance that I manage where the Local Timeline doesn't update for a single user, all other users report no problems and that same user created a new test account and the issue is not present on the test account. So, the problem doesn't look to be on their end but after looking into everything I could think of I found nothing wrong.
Also the same situation where when a toot is posted from the problematic account it briefly shows up on the home timeline and then vanishes was reported.
I spoke with @Kansattica and the issue is also still present on the account that started this issue.
OK, after jumping into the database I found what was wrong with the user I reported, the language filtering was on to only allow Japanese posts. After removing the language filtering it started working normally.
This solved my problem- turns out I had Portugese checked for some reason. Thank you so much!