kubevalidator

A GitHub App that validates the Kubernetes YAML in your GitHub PRs using kubeval.
Example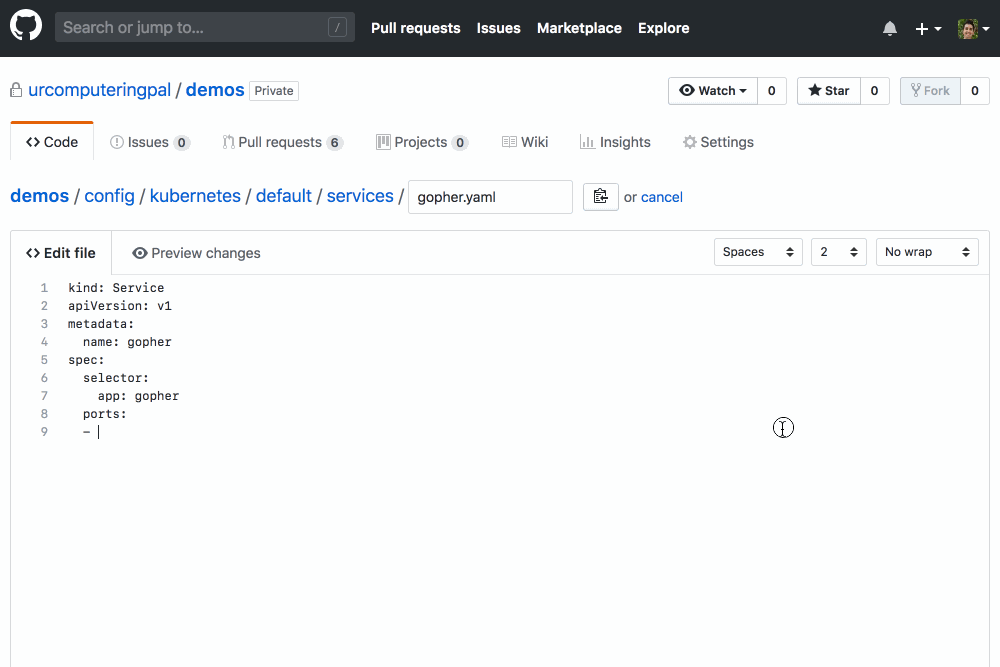 Goals
Non-goals
Getting started

The authors of kubevalidator maintain a hosted version of the source code you see here. Install it today if you're comfortable with us processing your YAML! See the section on deploying your own instance if you'd prefer.
Configuration

kubevalidator depends on you to tell it which YAML in your repository it should validate using a file at .github/kubevalidator.yaml. This repo's config is a decent example:
apiversion

: 

v1alpha




kind

: 

KubeValidatorConfig




spec

:
  

manifests

:
  - 

glob

: 

config/kubernetes/default/*/*.yaml


    

schemas

:
    - 

version

: 

1.10.0


    - 

version

: 

1.10.1


    

#


    

#

 Schema options and their defaults. See config.go for more details.
    

#



    

#

 version: 'master'
    

#

 name: 'human readable name' # defaults to the value of version

    

#

 If the schemas in https://github.com/garethr/kubernetes-json-schema
    

#

 don't work for you, fork it and drop your username here! Your schemas
    

#

 will be used instead.
    

#


    

#

 schemaFork: garethr

    

#

 Set this to openshift to use schemas from
    

#

 https://github.com/garethr/openshift-json-schema instead.
    

#


    

#

 type: kubernetes

Hacking

See CONTRIBUTING.md
Deploying your own instance

These instructions are untested. Please open a new issue or PR if you run into any problems or would prefer to use another deployment tool!
kubectl create secret generic kubeval
    --from-file=PRIVATE_KEY=~/Downloads/path-to-kubeval-key.pem \
    --from-literal=APP_ID=1234 \
    --from-literal=WEBHOOK_SECRET=1234 \
    --dry-run=true -o yaml > config/kubernetes/default/secrets/kubeval.yaml

Acknowledgements
Questions?

Please file an issue! If you'd prefer to reach out in private, please send an email to pal@urcomputeringpal.com.