Join GitHub today
GitHub is home to over 28 million developers working together to host and review code, manage projects, and build software together.
Sign up
Home
Usefulaaltomap is a map of Aalto that actually helps people find what the need, unlike the existing campus maps. We aim to bring all the practical information about the campus to to one place. This is an open-source project, and our raw information comes from OpenStreet map, with a nice interface and local Aalto information on top.
This is a collaborative, open-source project: please contribute data, and if you want, code or design!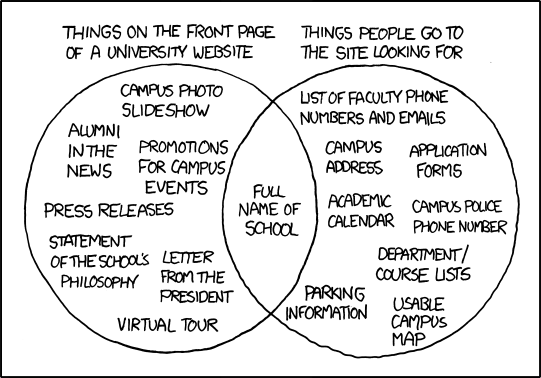 (xkcd 773 on university websites)
Features
Searchable by location. Unlimited number and types of objects.
Tri-lingual names, e.g. the (real) main building
Objects can have names as well as common aliases, e.g. the F building
Includes organization units and their respective locations. Can include other metadata. e.g. School of Science
Indoor and outdoor paths, including routing (many paths label wheelchair accessibility).
Entrances, including wheelchair accessibility. e.g. CS building
Key indoor services and locations, including opening hours and exact locations on the map. e.g. Päälafka
Group views, e.g. see all public secureprint printers.
Data shared with HSL journey planner. Can do one-click to go to OpenStreetMap, HSL, or Google routing to any location. HSL can even tell you how to go through buildings now.
Support for more services, such as guest parking, bike racks, etc. (not yet implemented)
All data open source and anyone can contribute easily using standard open-source platforms. Data separated between fully public OpenStreetMap data and our own campus-specific data. Supporting Aalto's openness.
Doesn't track you. Browser-only webapp, so doesn't even collect information on what people search for and view. Statistics can be added later, but only in a privacy-preserving manner.
Principles
Useful and including real names. Aalto has been systematically removing and switching names of buildings, to the point where existing maps don't reflect how people actually talk about buildings and locations. At least we will document the names people use, and preferably direct people to what is most common.
Open. Both our software and data should be open. Aalto believes in openness, and that should extend to basic services too. We will set an example by running UsefulAaltoMap as an open project. We would like to use official Aalto data, but can only do so if it is released under a proper license.
Rational. Years ago, we could almost uniquely identify any room on campus by letter+number: "F123", "U121a", or "T-A243" should be sufficient to identify any place. Now, Aalto is actively working against this this: they expect us to use addresses for building, and to make it worse, they try to give names to rooms, which is where a number is actually useful. We hope to promote rationalization of room addresses through our project.
Attention Aalto staff: we would be happy for this to become an official Aalto project, if you agree with the principles above.
How to contribute
Promote usefulaaltomap.fi: tell people about it and encourage people to use it. Ask Aalto to make it official. Post flyers.
Help us collect data!

Become an area consultant - we need people who know each area of campus so that we can get updates.
Use the form which is linked from any of the map pages. You can submit anything here and we'll look at it.
Contribute to OpenStreetMap: http://wiki.openstreetmap.org/wiki/Contribute_map_data.
Contribute translations
IRC: #usefulaaltomap on IRCnet

Contribute on Github
See the page Contributing. If anyone wants to do a larger project (e.g. course project redesigning things, new view, etc.), then contact us and we are glad to help.
Press h to open a hovercard with more details.