Join GitHub today
GitHub is home to over 28 million developers working together to host and review code, manage projects, and build software together.
Sign up
New issue

Have a question about this project? Sign up for a free GitHub account to open an issue and contact its maintainers and the community.

By clicking "Sign up for GitHub", you agree to our terms of service and privacy statement. We'll occasionally send you account related emails.

Already on GitHub? Sign in to your account
New inbound SMS start new Posts AND appear on existing Posts' conversations with Author section
#2343
Comments
Expected behaviour
The conversation with an Author does not spawn new Posts each time the Author responds
Actual behaviour
Each time the Author responds a new Post is created
Steps to reproduce the behaviour/error
Requires: Datasource SMS setup
Receive an inbound SMS
Go to the Post created for this inbound SMS
Using the Conversation with Author section
Send a reply to the Author
Where
Ushahidi.io / SaaS solution
Ushahidi's QA environment
Other (explain):
This comment has been minimized.

Show comment

Hide comment
This should be fixed within the SMS targeted surveys
jshorland added this to the
SMS targeted surveys cycle 1

milestone Feb 14, 2018
@willdoran this is in Core/Usecase/Message/ReceiveMessage.php when sending a POST to smsync or any of the sms providers with to/from/message fields right?
(def. need to up my platform dataproviders/SMS knowledge this cycle!)
First sent two messages to /smssync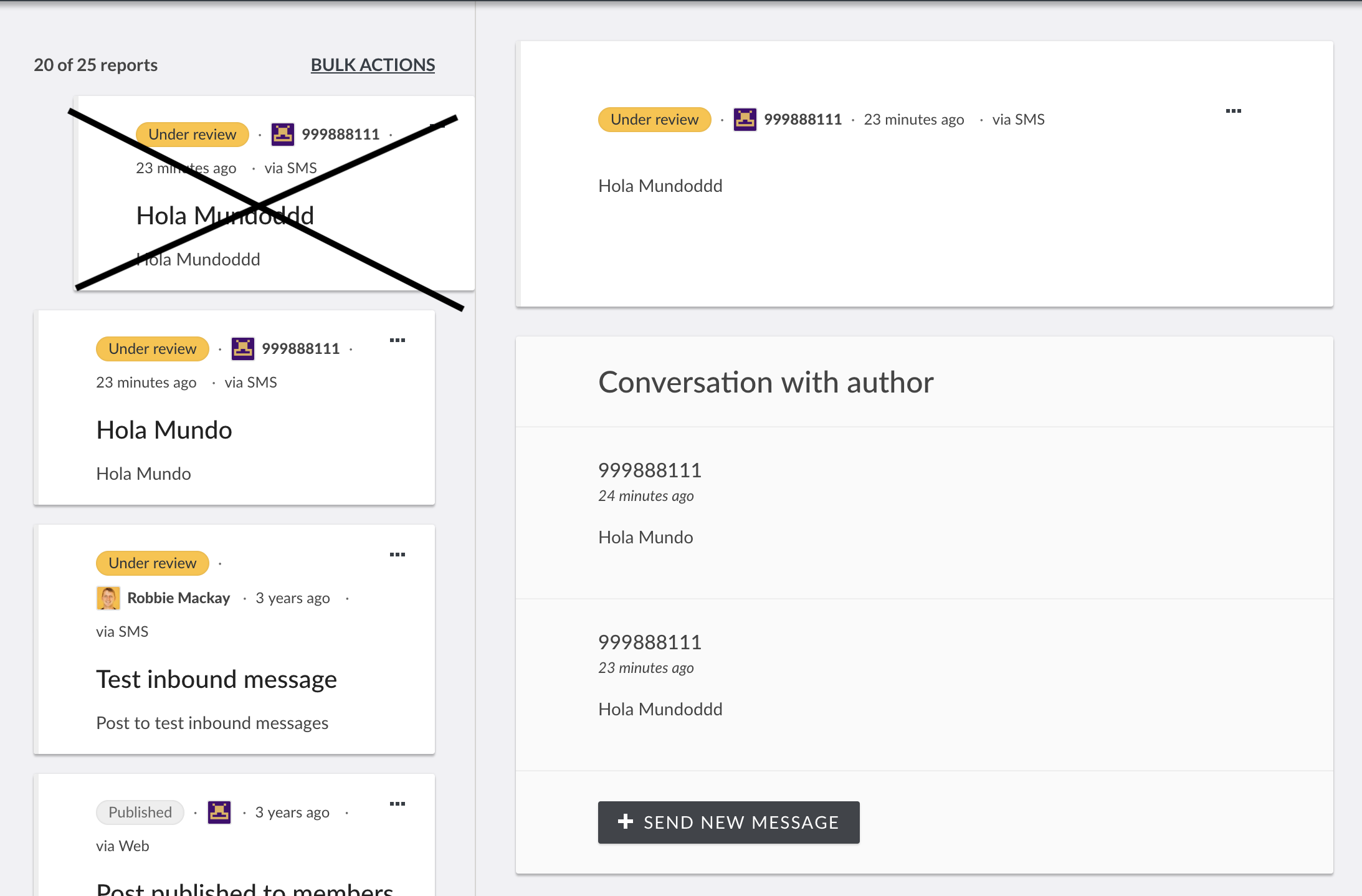 Then answered and sent another message and this was the result

Q1 : So if I'm in the data view, for instance, it would be shown under the conversation with author but not in the sidebar of posts. Right?
Q2: not sure how Eve would test this? directly with SMS or should we send her a postman set up for this?
This comment has been minimized.

Show comment

Hide comment
This comment has been minimized.

Show comment

Hide comment
Closing in favour of #2532