Be notified of new releases
Create your free GitHub account today to subscribe to this repository for new releases and build software alongside 28 million developers.
Sign up
vgmoose released this Oct 2, 2018 · 11 commits to master since this release
Changelog:
New Features:
Search functionality with on screen keyboard
Allow sorting of app list by: most recently updated, download count, alphabetically, download size, and randomly
Add new "Advanced" category including some system/hekate modules
Redesigned "App Details" screen to show much more information about each app such as long scrollable description, download count, download size, and last updated date
Added feedback reporting for any app to collect data about what works and doesn't work. This feedback will be passed along to the app's author if appropriate
Enhancements:
All touch and controller controls refactored and more responsive to input (highlights, buttons, etc)
Add four-column "wide" view activated by pressing L or ZL in the app listing
New offline screen when internet connection isn't detected instead of empty progress bar
List other apps by the same author from the details page
Bug fixes:
Switched to curl instead of old hacky HTTP downloading curl
Empty folders are now removed upon uninstallation of a package
Corrupt cached icons should no longer freeze loading
Uses romfs for storing images instead of an external folder
Some settings for cleaning up any empty folders leftover by the old app and wiping the icon cache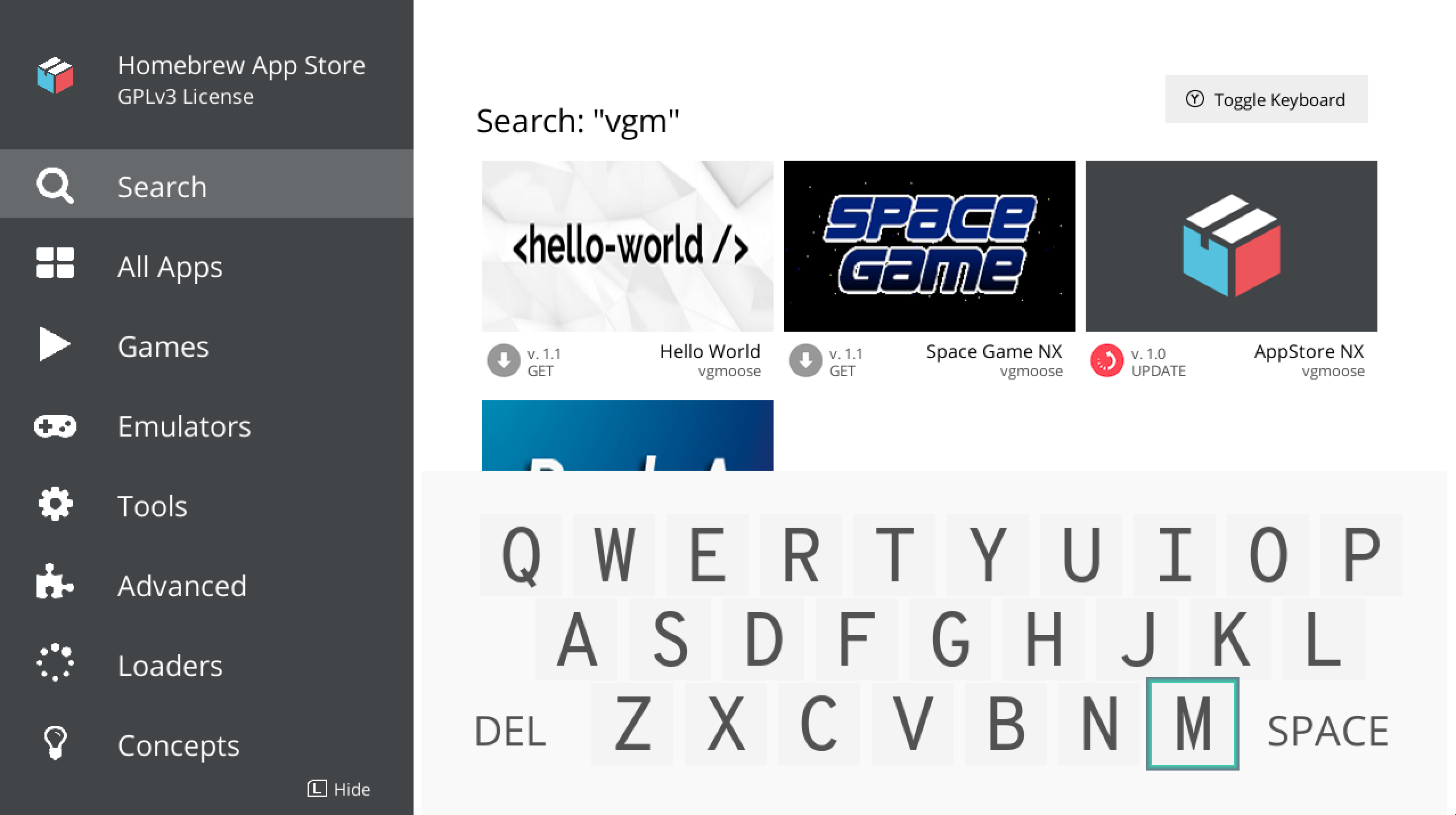 vgmoose released this Mar 29, 2018 · 106 commits to master since this release
This is a Switch homebrew app for downloading and installing more homebrew from Switchbru's repository.
To use it, see the instructions in the readme. Homebrew is only currently publicly compatible with 3.0.0 Switches.
The first load will take a while as it caches some icon and banner data, loads after that should be much faster. The best way to interact with the app is by using the touch screen, but there are also gamepad controls.
Known issues:
vgmoose/libget#1 - empty folders aren't removed when uninstalling package
#5 - Pynx takes about 5 minutes to extract files from zip
#2 - downloading should use libcurl
Reporting issues can be done on Github or on the Switchbru Discord (or #switchbru on Freenode)
:)
vgmoose released this Mar 6, 2018 · 133 commits to master since this release
This is a (preview!!) of a graphical front end to the "get" package manager, for downloading and managing installed homebrew apps on the Switch console itself. This is a spiritual successor to the Wii U Homebrew app store.
Issues:
It has a very basic text-based interface for downloading and installing homebrew. I would like feedback from the community on what works and doesn't work with this format. Going forward for the 1.0 release, I want to complete the visuals in #1. Please leave feedback here.

This .nro is hardcoded to load repo data from switchbru.com/appstore. The get package manager supports multiple repositories configured in a json file, but to properly handle DNS lookup I would want #2 to be finished first.

It crashes sometimes when downloading some files. I think it has to do with files that are pre-installed on the SD card before downloading them through the app. Any feedback on this would be greatly appreciated (#3)
Thanks for checking out this app preview and reporting any feedback. I want the "get" package manager to be as versatile as possible to handle future apps, and also to backport these changes to the Wii U, so that it can also benefit from these enhancements.
EDIT Mar 15 2018: fix crashes during downloading some zips
EDITMar 15 2018: fix bug removing packages