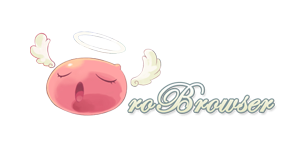 roBrowser is a web-based clone of the popular MMORPG Ragnarok Online built with WebGL, JavaScript, HTML5, and more. The project is entirely free and opensource, so you're welcome to setup roBrowser on your own server or try a demo.
You can learn more at http://robrowser.com
Screenshots
Installing
Prerequisites

To run roBrowser you will need a browser that supports WebGL and is OpenGL ES 2.0 compatible. We've tested the following browsers:
Chrome
FireFox
Opera
IE11
If you don't run roBrowser in a Chrome App, you will need a Java plugin installed instead.
Quickstart
Contributing

roBrowser is developed by a team located around the world. Check out the documentation and submit a pull request!
Contact
IRC Channel: irc.rizon.net / Channel: #roBrowser