chrome-protocol-proxy

chrome-protocol-proxy is small reverse websocket proxy designed for chrome debugging protocol. It's purpose is to capture messages written to and received from Chrome Debugging Protocol, coalesce requests with responses, unpack messages from Target domain and provide easy to read, colored output. This tool is a fork of (and heavily inspired by) chromedp-proxy.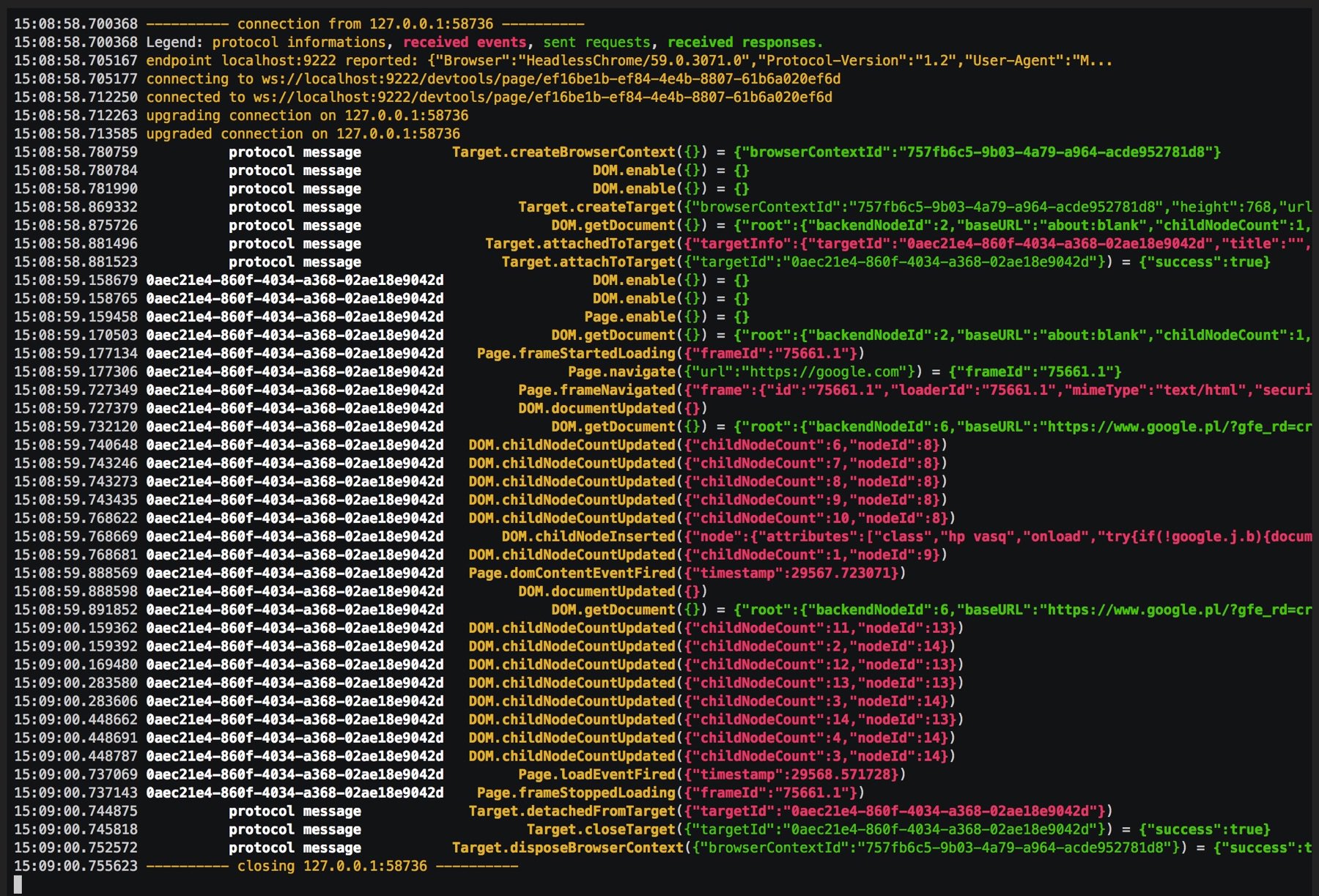 features
colored output,
protocol frames filtering,🖖
request-response coalescing,
interprets Target.sendMessageToTarget requests,
interprets Target.receivedMessageFromTarget responses and events with both targetId and newly introduced sessionId,
calculates and displays time delta between consecutive frames,
writes logs and splits them based on connection id and target/session id.
usage

go get -u github.com/wendigo/chrome-protocol-proxy
configuration options
 Usage of chrome-protocol-proxy:
  -d	write logs file per targetId
  -delta
    	show delta time between log entries
  -exclude value
    	exclude requests/responses/events matching pattern (default exclude = )
  -i	include request frames as they are sent
  -include value
    	display only requests/responses/events matching pattern (default include = )
  -l string
    	listen address (default "localhost:9223")
  -log-dir string
    	logs directory (default "logs")
  -m	display time in microseconds
  -once
    	debug single session
  -q	do not show logs on stdout
  -r string
    	remote address (default "localhost:9222")
  -s	shorten requests and responses

demo
tips & tricks

When using Headless Chrome navigate to inspectable pages and open inspector pane for url of your choosing. Then replace port in ?ws= query param and point it to running chrome-protocol-proxy instance (default port is 9223). Now you're able to see what Chrome Debugger is exactly doing. Enjoy!