Join GitHub today
GitHub is home to over 40 million developers working together to host and review code, manage projects, and build software together.
Sign up
New issue

Have a question about this project? Sign up for a free GitHub account to open an issue and contact its maintainers and the community.

By clicking "Sign up for GitHub", you agree to our terms of service and privacy statement. We'll occasionally send you account related emails.

Already on GitHub? Sign in to your account
Try a narrow trash button
#19131
Conversation
The trash button right now is full width, which is not a pattern used a lot elsewhere. It also encourages you to move to trash almost as so large.
A little fix to this could be to explore just making it a normal button here: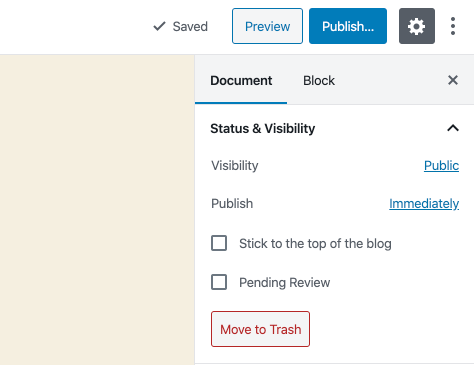 I would argue making it just a text link could also work, but let's see what feedback is about the button for now.
karmatosed
added the
Needs Design Feedback
label
Dec 13, 2019
karmatosed
requested a review from
talldan
as a
code owner
Dec 13, 2019
The smaller button looks a little strange, visually, but I agree the wide button is way too prominent. I'd be in favor of trying a link style for this — but happy to have that be a separate PR. Along with that, it'd be really nice to add a confirmation to this action.
Ok based on feelings, let's try a smaller button then we can try a PR for a link if people think it's too weird. I would also be happy to try a link. Thanks, everyone.
karmatosed
merged commit
1a9094b
into
master
Dec 13, 2019
2 checks passed
karmatosed
deleted the
try/trash-narrow
branch
Dec 13, 2019
I'd second revisiting as a link. It's not a primary or even secondary action. I don't see a need to draw more attention to it than necessary and a link feels about right in the visual hierarchy.
Add this suggestion to a batch that can be applied as a single commit.
This suggestion is invalid because no changes were made to the code.
Suggestions cannot be applied while the pull request is closed.
Suggestions cannot be applied while viewing a subset of changes.
Only one suggestion per line can be applied in a batch.
Add this suggestion to a batch that can be applied as a single commit.
Applying suggestions on deleted lines is not supported.
You must change the existing code in this line in order to create a valid suggestion.
Outdated suggestions cannot be applied.
This suggestion has been applied or marked resolved.
Suggestions cannot be applied from pending reviews.
Suggestions cannot be applied on multi-line comments.