Join GitHub today
GitHub is home to over 40 million developers working together to host and review code, manage projects, and build software together.
Sign up
New issue

Have a question about this project? Sign up for a free GitHub account to open an issue and contact its maintainers and the community.

By clicking "Sign up for GitHub", you agree to our terms of service and privacy statement. We'll occasionally send you account related emails.

Already on GitHub? Sign in to your account
[Bug] CarouselView not handling GestureRecognizers and ScrollToRequested on swipe
#7036
Comments
CarouselView is not handling GestureRecognizers SwipeGestureRecognizer (IOS and Android)
also PanGestureRecognizer not working in Android (But works on IOS)
Steps to Reproduce
Create a shell application
Create a ContentPage with a CarouselView inside
Set the CarouselView.ItemsSource to multiple items
Create an event handler (optional) for ScrollToRequested in CarouselView
Create CarouselView.GestureRecognizers SwipeGestureRecognizer and PanGestureRecognizer
Implement event handler for Swiped in SwipeGestureRecognizer
Implement event handler for PanUpdated in PanGestureRecognizer
Expected Behavior
While swiping right to left
ScrollToRequested handler should be called
Swiped handler should be called
PanUpdated handler should be called
Actual Behavior
On Android:
None of the handlers are called (ScrollToRequested is only called if you programmatically call ScrollTo(x) in the code behind.
On IOS:
Only PanUpdated is called
Basic Information
Version with issue: 4.1.0.618606

Last known good version: ?

IDE: Visual studio 2019 Windows 10

Platform Target Frameworks:

iOS: 8.0
Android: Android 9 API 28

Nuget Packages:

Affected Devices:
Screenshots
See animated GIF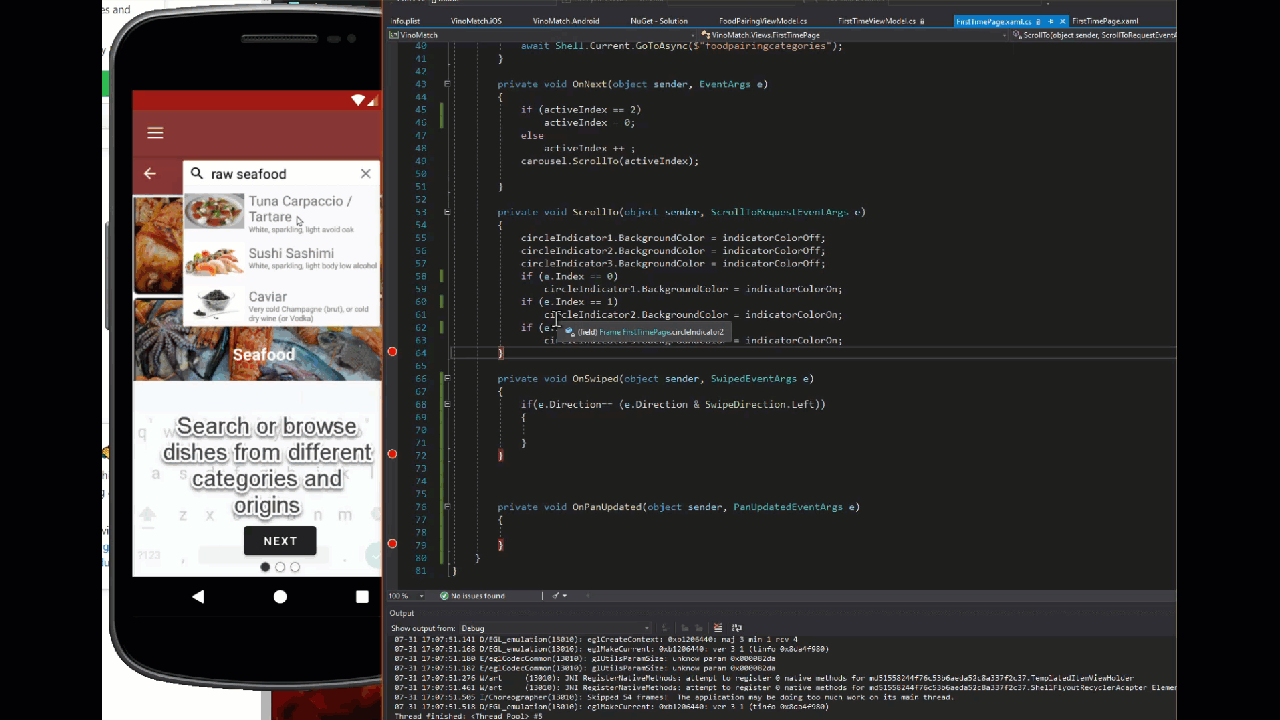 pierre01
added
s/unverified
t/bug 🐛
labels
Aug 1, 2019
pauldipietro
added this to
New
in
Triage
Aug 1, 2019
samhouts
added
a/carouselview
a/gestures 🖖
p/Android
p/iOS 🍎
a/shell 🐚
labels
Aug 1, 2019
@pierre01 Can you please attach a small project that demonstrates this issue?
Also, does this happen if you do not use Shell?
Thanks!
samhouts
added
s/needs-info ❓
s/needs-repro ❔
labels
Aug 1, 2019
samhouts
moved this from
New
to
Needs Info
in
Triage
Aug 1, 2019
I have not tested yet whitout the shell
Actually it is even worse as the PanUpdated event that was working on IOS, is not working anymore now.
Test Envori
vs - 2019, CarouselView - Ver-4.2.0.673161, Android - Pie

I have 3 tested way in CarouselView (Ver-4.2.0.673161) with Android (sorry i don't have mac)
ScrollToRequested : Not worked
Add PanGestureRecognizer - PanUpdated : Not worked
Have there function (ItemsViewScrolledEventArgs e)
Debug.WriteLine(" FirstVisibleItemIndex : " + e.FirstVisibleItemIndex + " CenterItemIndex : " + e.CenterItemIndex + " LastVisibleItemIndex : " + e.LastVisibleItemIndex + " HorizontalOffset : " + e.HorizontalOffset + " HorizontalDelta : " + e.HorizontalDelta + " VerticalDelta : " + e.VerticalDelta + " VerticalOffset : " + e.VerticalOffset);
I think 'LastVisibleItemIndex' is nextIndex actually what is different FirstVisibleItem & CenterItemIndex?
Thank you Update :) , very well worked Scrolled!
pierre01
closed this
Aug 14, 2019
Although the event arguments (e.FirstVisibleItemIndex, e.CenterItemIndex, e.LastVisibleItemIndex) to the scrolled event are inconsistent across platforms
on Ios:
screen 0 = 0,0,1
screen 1 = 0,1,2
screen 2 = 1,2,2
on android:
screen 0 = 0,0,0
screen 1 = 1,1,1
screen 2 = 2,2,2