Join GitHub today
GitHub is home to over 40 million developers working together to host and review code, manage projects, and build software together.
Sign up
New issue

Have a question about this project? Sign up for a free GitHub account to open an issue and contact its maintainers and the community.

By clicking "Sign up for GitHub", you agree to our terms of service and privacy statement. We'll occasionally send you account related emails.

Already on GitHub? Sign in to your account
USS GET directory listing which user in not authorised returns 500 RC instead of 403
#77
Comments
Describe the bug
In the Zowe 0.9.4 API, a 403 (Forbidden) error was returned if the user requested to view contents a USS folder they did not have permission to view. In Zowe 1.0.1, the new API returns a 500 error.
To Reproduce
Steps to reproduce the behavior:
Go to the Swagger UI for Zowe 1.0.1 (e.g. https://tvt4119.svl.ibm.com:8547/swagger-ui.html#/).
Expand 'Unix Files APIs'.
Expand 'GET /api/v1/unixfiles' and click "Try it out".
In the input field for path, enter the path to a folder your user does not have permission to (e.g. /u/zoweph or /u/zowebjs).
See a 500 error returned.
Expected behavior
When the user requests to view contents of a USS folder they do not have permission to, return a 403 (Forbidden) error.
Screenshots
Screenshot of 500 error: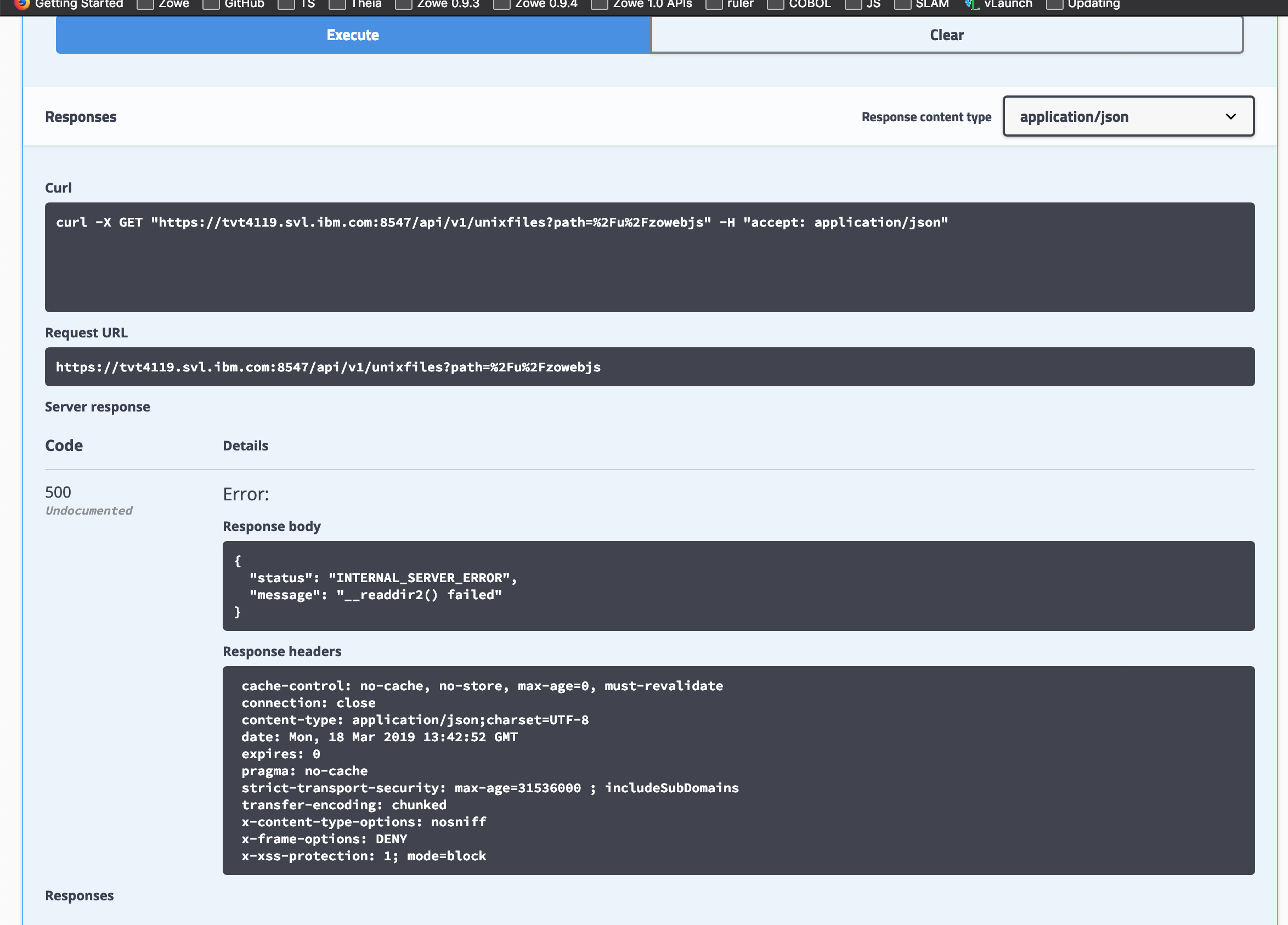 Desktop (please complete the following information):
OS: Mac
Browser: All
Version [e.g. 22]: N/A
Additional context
Add any other context about the problem here.
This comment has been minimized.
This should be fixed by #66 which should be in 1.0.2