Join GitHub today
GitHub is home to over 40 million developers working together to host and review code, manage projects, and build software together.
Sign up
New issue

Have a question about this project? Sign up for a free GitHub account to open an issue and contact its maintainers and the community.

By clicking "Sign up for GitHub", you agree to our terms of service and privacy statement. We'll occasionally send you account related emails.

Already on GitHub? Sign in to your account
[第 76 期] 一个会提醒你喝水的小鸭子chrome插件
#854
Comments
干杯!妈妈再也不担心我不喝水了!cheers!Mom is no longer worried that I will not drink water!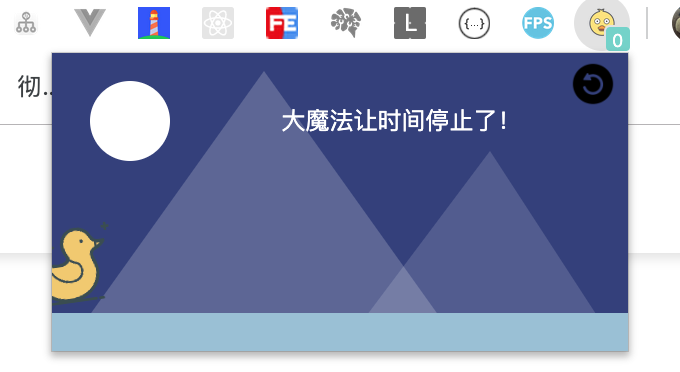 v0.08更新!2019-9-7 13.04
修复浏览器console报错的小bug🙇‍
v0.07更新!11-9 19.40
修复了小鸭子倒着游的重大bug🙇‍
v0.06更新!10-19 15.00
之前计时重复了,30分钟喝一杯了,我对不起大家!小鸭子替我道歉🙇
v0.05更新!10-18 19:55
1.白天点击refresh小鸭子变大,晚上点击小鸭子会变小(否则小鸭子似乎经常遭到毒手变的太大回不去!
2.提示出来之后点击喝水按钮后就刷新计时,不需要在标签里点击刷新啦!
3.谢谢大家的支持!
年轻人的第一个chrome插件!
教会年轻人写插件的同时;
关注大家的身体健康;
rua!!!
主要功能:
①通过标签提醒距离上次喝水已经过了多久
②点击右上角刷新时间
③点击太阳切换白昼/黑夜暂停时间
④60分钟会提示并且标签会变色
(其实这个是一个养成类的游戏,小鸭子喝水会变大,不及时喝水会变小。哈哈哈哈哈哈
(感谢小朋友🐏医生)
The first chrome plugin for young people!
Teach young people write plugins at the same time;
Pay attention to your health;
Rua!!!
The main function:
①Through the badge to remind you how long it has been since drinking the last time
②click the top right corner to refresh the countdown
③click the sun to switch to the day/night to pause time losing
④every 60 minutes will prompt at once and the label will change color
(In fact, this is a game , the ducklings will get bigger when you drink water and refresh, and they will get smaller if they don't drink in time. Hahahahahaha
(Thanks to doctors 🐏 - the one I love!❤)
chrome插件地址:https://chrome.google.com/webstore/search/%E5%B9%B2%E6%9D%AF?hl=zh-CN