New issue

Have a question about this project? Sign up for a free GitHub account to open an issue and contact its maintainers and the community.

By clicking "Sign up for GitHub", you agree to our terms of service and privacy statement. We'll occasionally send you account related emails.

Already on GitHub? Sign in to your account
BURIED: Fix missing research points (bug 12881)
#3337
Conversation
This should fix the missing research points described in https://bugs.scummvm.org/ticket/12881
Basically, the bug boiled down to the points only being awarded when pressing the "previous" button. And that would never take you to the pages that awarded the points.
Note that since I've never gotten around to playing the game, it's quite difficult for me to tell if I've accidentally mixed up anything. I'd be grateful if someone more familiar with the game could test it.
The text was updated successfully, but these errors were encountered:
We are unable to convert the task to an issue at this time. Please try again.
The positions of the previous and next button had been mixed up. The
previous button is left of the next button, not the other way around.

This meant you could only be awarded points when pressing the previous
button, and since you would then step away from the page that awards
point that did not work.

Since the buttons worked in other respects, the id for the previous and
next pages must also have been similarly mixed up. This too should be
fixed now.
The Agent 3 information and profile research points were awarded when
pressing the "next" button, so they were never awarded. Award them when
hitting a hotspot instead.
I've tested it out and it looks good to me.
I don't see any unexpected side effects either, so I'm in favor of merging (and backporting to 2.3.x if possible).
For completeness, here are screenshots showing that the bug is fixed.
Following reproduction instructions from the bug report
Looking at the correct screens in Biochip - Files and then dying shows a Research Bonus of 300, as expected.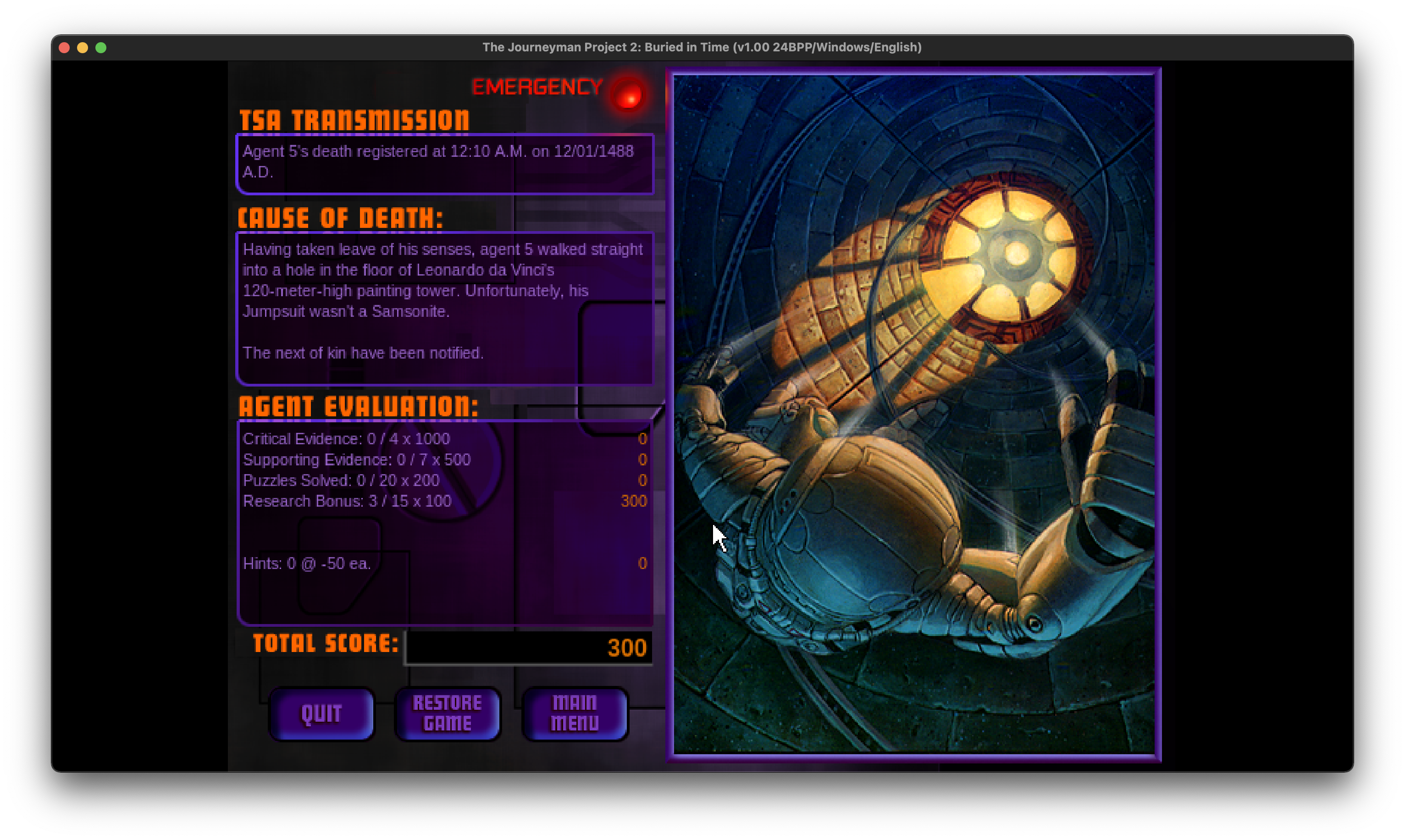 Full Game
A complete 15000 out of 15000 points can now be achieved.
Add this suggestion to a batch that can be applied as a single commit.
This suggestion is invalid because no changes were made to the code.
Suggestions cannot be applied while the pull request is closed.
Suggestions cannot be applied while viewing a subset of changes.
Only one suggestion per line can be applied in a batch.
Add this suggestion to a batch that can be applied as a single commit.
Applying suggestions on deleted lines is not supported.
You must change the existing code in this line in order to create a valid suggestion.
Outdated suggestions cannot be applied.
This suggestion has been applied or marked resolved.
Suggestions cannot be applied from pending reviews.
Suggestions cannot be applied on multi-line comments.