Formoid is a surprisingly simple, intuitive, and powerful bootstrap form builder for faster web form development, wireframing and embedding. Create signup forms, surveys, order forms, event registrations and more in a few seconds! No coding! Modern Flat, Metro, Bootstrap form themes, pure CSS styled, fully responsive, retina-ready, as-you-type HTML5 or jQuery bootstrap form validation, anti-spam captcha - all you need to create your best forms. To get started, checkout http://formoid.com or see online demo!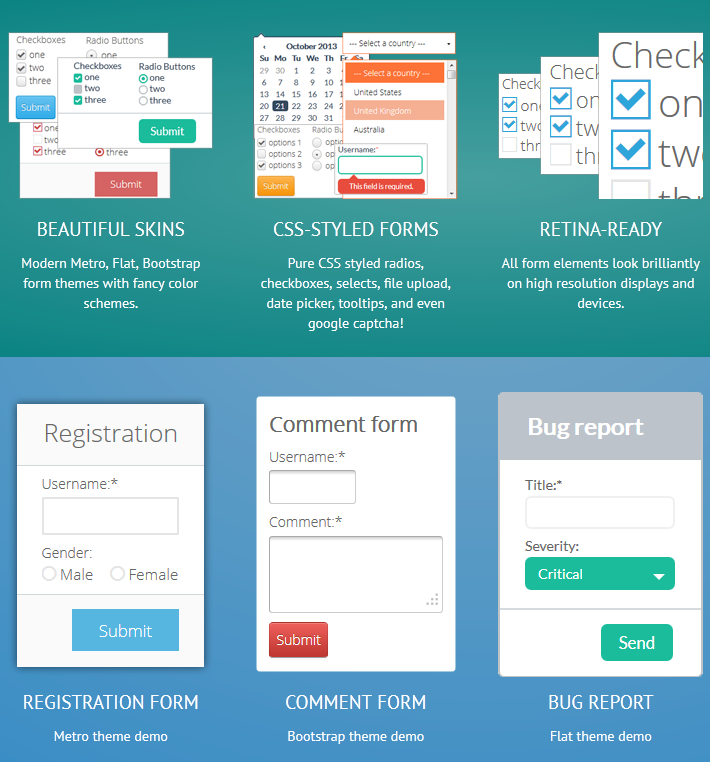 Some More Live Demos
Quick start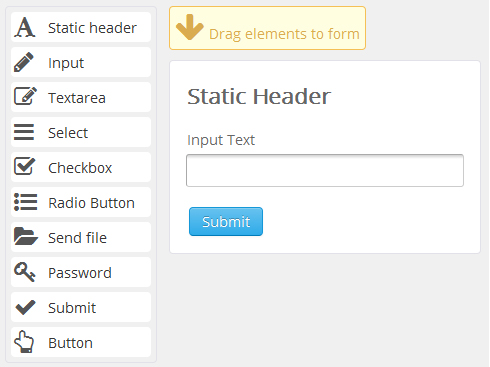 Three quick start options are available:
Drop form elements and tweak settings.
Publish and get the ready code.
Features
GUI Wizard
No-brainer Form Generator - No css/html/javacript coding, just drag-n-drop.
For Mac and Windows - Supports Mac OSX 10.6+, Windows XP, Vista, 7 or 8
Fully Customizable
Live Preview
Color Schemes
Standard Fields
Advanced Fields
Mandatory fields
Anti-spam captcha
HTML Forms
Beautiful skins - Modern Flat, Metro, Bootstrap form designs with fancy color schemes
Responsive forms
Widest browser and device compatibility
Retina Ready
Sleek Google Fonts
Pure CSS styled
Live validation
PHP Forms
Handling Forms with PHP
No Coding
Email Contact Forms
Export to CSV
Hosted Online Forms
One-click publishing, preview and test
Easy sharing & embedding
Instant email notifications
Collect attachments
Full control
Secure forms
Copyright

Copyright 2015 Formoid.com - bootstrap form generator.