Shoper WooCommerce WordPress theme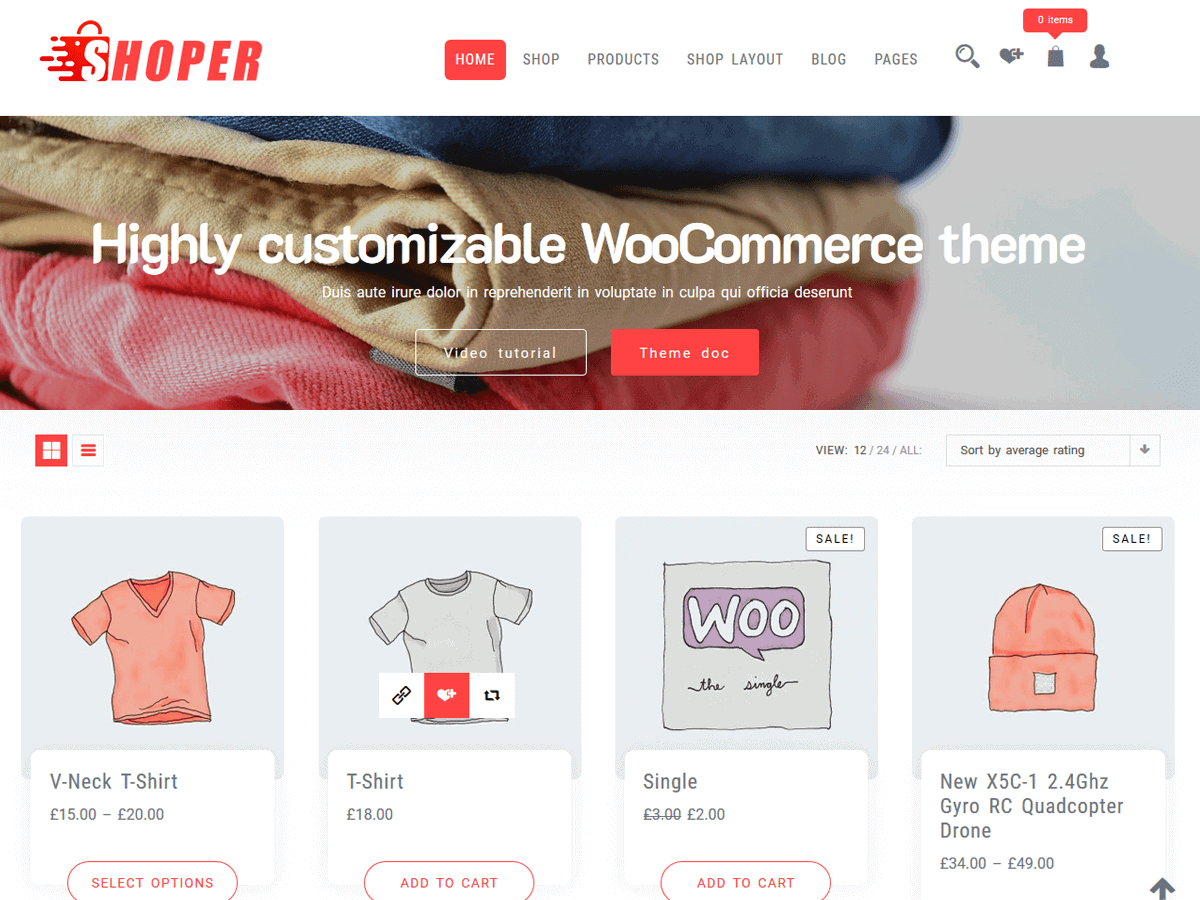 The Shoper theme is classy, trendy, eye-catching, and modern multipurpose WordPress shop theme free. To clarify, the WordPress shop builts with the topmost latest technology and wraps with the WordPress hook.
In a word, it's a free WooCommerce theme, where you can easily switch the default functionality through improving the theme Actions/Filters. And also, it's a complete ready to use the theme.
However, it comes to create your online desire shop like a fashion shop, beauty, health, jewelry, or any relevant shops, or as a multipurpose shop. Similarly, you can use this shopper WooCommerce theme for a grocery store, supermarket, organic shop, or any online selling products shop.
On the other hand, it permits you to customize varieties shop front layouts, adjustable product columns, and product filters. And to raise your products shoppable, it also supplies exceptional typography and color schemes.
On a serious note, it includes a Live Customizer for your customization comfortably. Plus, you'll attain the power to customize your screen/device like Desktop, Tablet, and Mobile for responsiveness.
Besides, this WooCommerce shop comes with powerful and advanced theme options, unlimited color and fonts, translation-ready, retina-ready, and WooCommerce compatible.
Moreover, Shoper free WooCommerce theme is perfectly compatible with the topmost latest and popular drag and drop PageBuilder Elementor.
The WordPress shop product display options create so effectively that visitors will rush to purchase instantly. And top of that, you don't need any coding knowledge to customize it.
Wish to know furthermore for the WordPress shop theme free? Then, we heartily advise you to see the demos or videos we are giving.
Advanced Technology:
It is to say that the Shoper builts with the ultimate latest technology named WordPress hook. That's why you can comfortably modify the default functionality by controlling the theme Actions/Filters.
WooCommerce ready:
It's a complete WooCommerce ready theme so that you can trade your consultancy, materials, or any goods from the website and gain many currencies.
Multiple Page Layout:
The Shoper WordPress shop theme free appears with built-in multiple page layouts. That means it gives you to choose and customize the entire pages from varieties of layouts/templates.
Hero Section:
This Hero section allows you to use any third-party plugin for your WooCommerce shop.
Quick View Product oF WordPress shop:
Quick View product options make you showcase your product available data via the product listing page.
List of Product:
This specific option support you to showcase your variation of several products in the product grid or carousel on the site pages.
Swatches Filter Systems:
Swatches Filter Systems option ensures you to able to disable/enable your filters for different purposes like category, price, and product attributes.
Mini Cart:
A mini cart is an option where you'll be able to show your utmost latest cart content summary via your header or sidebars option.
Fly Cart:
A fly cart makes sure to supply valuable information as to how many items add to the cart through View Cart and Checkout buttons.
Translation Ready:
This free WooCommerce theme creates in such a way that you can comfortably translate and manage through POEditor or any translation editor.
Conclusion:
At last, the Best WooCommerce Theme arrives to make your dream site come real with ease. For that reason, it includes every possible option to manage and customize the entire theme like a pro with ease.
Installation
In your admin panel, go to Appearance > Themes and click the Add New button.
Click Upload Theme and Choose File, then select the theme's .zip file. Click Install Now.
Click Activate to use your new theme right away.
Changelog
= 1.0.1  =
* .pot file updated

= 1.0.0  =

* Initial release

Copyright
Shoper WordPress Theme, Copyright (C) 2020 aThemeArt.com
Grocery Store is distributed under the terms of the MIT License 

Credits
Underscores:
Author: 2012-2015 Automattic
Source: http://underscores.me
License: GPLv2 or later

Customizer:
Author: https://github.com/justintadlock
Source: https://github.com/justintadlock/trt-customizer-pro
License: GNU GPL

Owl Carousel 2:
Author: David Deutsch
Source: https://github.com/OwlCarousel2/OwlCarousel2
License: [MIT License.]

Sticky sidebar :
Author:  Anthony Garand    
Source: https://github.com/garand/sticky
License: MIT License

Tgmpluginactivation:
Source: http://tgmpluginactivation.com/
License: GPL-2.0 or later license.

Predic-widget:
Source: https://github.com/AleksandarPredic/WordPress-Widget-Builder/blob/master/README.md
License: GPL v2 or later.

icofont:
Source: https://icofont.com/license
License: MIT License.

jquery.customSelect:
Author:  Adam Coulombe    
Source: http://adam.co/lab/jquery/customselect/
License: GPL2

RD Navbar :
Author:  OXAYAZA    
Source: https://github.com/ZemezPlugins/rd-navbar
License: GPLv2 or later

== Image Used ==

Name : play-recreation-toy-brand-cards-design-764589
License:  CC0 Public Domain 
source: https://pxhere.com/en/photo/764589

Name : table-people-photography-game-play-sign
License:  CC0 Public Domain 
source: https://pxhere.com/en/photo/671812

Name : grass-sand-woman-sport-meadow-dog
License:  CC0 Public Domain 
source: https://pxhere.com/en/photo/1354650

Name : game-play-recreation-card-casino-gambling (ads)
License:  CC0 Public Domain 
source: https://pxhere.com/en/photo/774160

Name : screenshot.png logo, 404.png and ads
License:  Self created by athemeart.com