New issue

Have a question about this project? Sign up for a free GitHub account to open an issue and contact its maintainers and the community.

By clicking "Sign up for GitHub", you agree to our terms of service and privacy statement. We'll occasionally send you account related emails.

Already on GitHub? Sign in to your account
Fashion Street
#31
Comments
Description
Fashion Street aims to be the most exclusive shopping street in DCL, like New Bond Street in London, The Ginza in Tokyo or Via Montenapoleone in Milan.
We will bring top fashion brands (Gucci, Prada, Ralph Lauren etc.) in DCL and give users a high sensory VR shopping experience.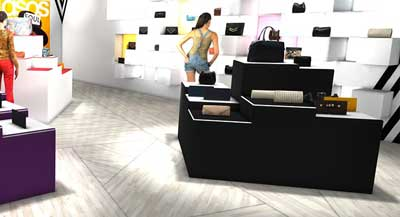 Clients will be able to have a detailed view of every item, feel it, try it on their avatar and most important, buy it. Every transaction will happen within the store using e-commerce APIs + payment integrations such as Request.network or Graft.network which allow 1-click payments both in crypto and fiat.
Business model will be the classic affiliate partnership (revenue sharing for each item sold in our stores) and sponsorship fees for hosting events like the VR Fashion Week.
Fashion Week and other events
Fashion weeks or similar events are crucial for top fashion brands in order to promote their collections.
Millions are spent in organizing these shows where fashion is just part of astonishing decorations, singing and dancing. Moreover having influencers and fashion industry professionals assisting these shows is a must for every successful Fashion Week.
Considering that the ticket for a front row seat can cost up to $50k (often offered as gifts to influencers, journalists and fashion professionals), the overall cost for organizing a fashion week it's huge and takes large part of the fashion brand's advertising budgets.
We will organize and host the first VR Fashion Week in our Catwalk Building and let every fashion influencer from around the world participate without paying for travel and accommodation. This may lead to an extensive media coverage in traditional fashion related magazines and create a virtuous circle.
The revenue from events such as the VR Fashion Week will derive from contracts with fashion brands in terms of sponsorship fees. Revenue will be distributed among founders, team and land owners who participate with their lands in the Catwalk Building development (proportionally to the land staked). More info about reserving land for the Catwalk building will be sent to Fashion Street land owners before the terraform event.
The Catwalk Building will be the main building of Fashion Street and will host many other events where artists and small creative boutiques from all around the world present their creations to interested parties.
Revenue for land owners in Fashion Street
Land owners do not need to have VR development skills in order to own a profitable store. They will be offered a turnkey solution, which consists in a high quality building and a fully operational store (with payment and smart contract integration).
That is, Fashion Street team will create a branded store for land owners who can choose which kind of store/brand they wish to promote (according to availability and exclusivity contracts). Land owners will keep 70% of all the net profits generated by their store, while 15% will go to Fashion Street founders and 15% to the team.
The position/location of buildings and stores will be decided by the team after considering different factors such as size, type of brand and affinity with adjacent stores.
Land owners will have three options to monetize their land: franchise a quality turnkey building/store from the Fashion Street team, stake their land to bigger and profitable buildings such as the Catwalk Building or rent/sell their land. Land owners will be given a reasonable amount of time to make their choice.
Given the high value of land in shopping streets, we are implementing a set of rules and a smart contract for land renting and selling in order to limit speculation and the buy-to-rent market.
After a request from land owners to rent or sell, the team will evaluate business proposals from interested tenants or buyers and rent/sell to the best (beneficial for the community) proposal.
Land owners will always keep at least 70% of the rent/sale revenue but (according to the size of their land and proposals from tenants and buyers) this share could be higher, while 30% or less goes to founders and team and will be used for marketing, partnerships and further development. However, more details will be given to the community and land owners before the terraform event.
For obvious reasons, undeveloped land or unaesthetic buildings will not be allowed in Fashion Street. In this industry, quality and attention to small details are crucial to succeed, therefore would be beneficial for all to have only attractive and luxurious buildings.
Our vision
This is the very beginning of a multi-billion market. VR Shopping is here to stay and some big players such as Alibaba are ready to enter in this market. Our goal is to make Fashion Street a big name in the fashion industry and make our community and land owners part of the VR shopping revolution.
Join our team
We're currently looking for a top class VR developer with good knowledge of A-frame/Three.js. If you're interested in joining our team, please mail us at info[@]authentikos.network.
The text was updated successfully, but these errors were encountered: