elastalert-ci

Continuous integration for Elastalert rules; compatible with Docker Compose, Kubernetes, and CircleCI.

Note: This is an early version of a side-project. It might change rapidly, or might not be updated at all; use it with this in mind. I would not recommend using this image to anyone who is not already somewhat familiar with Elasticsearch, ElastAlert, and Docker.
What is this?

This repository provides a Docker image which you can use to create CI pipelines for your ElastAlert detection rules.

This repo provides an example of how you can use Docker Compose - see the docker-compose.yaml for more details.

elastalert-dummy-rules provides an example of how you could use this image within a CircleCI pipeline.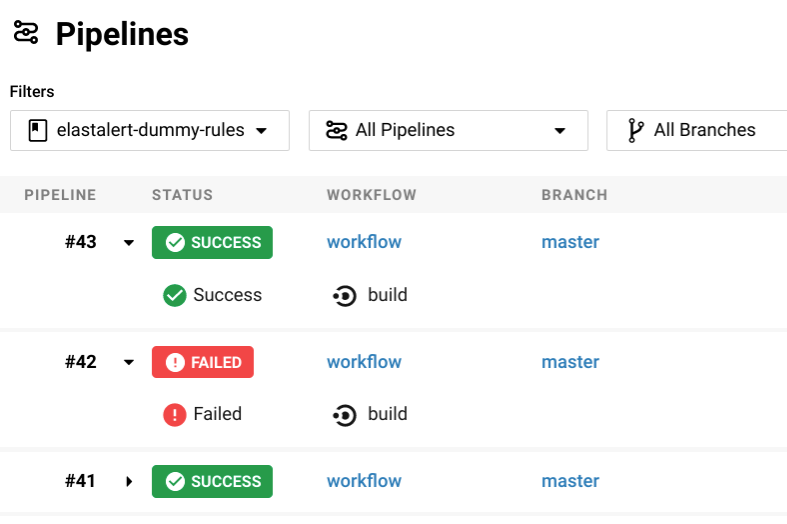 Both the Docker Compose and CircleCI configurations spin up an Elasticsearch container and an ElastAlert container, uploads provided test data to the Elasticsearch container, and then runs elastalert-test-rule against all the rules that are provided to it. The results of elastalert-test-rule are passed to a wrapper script that collects the results of all rules that have run, returning a 0 exit code if all alerts have fired and a 1 exit code if any rules haven't fired.
Key features:
Works against all types of Elastalert rules, applying filters (unlike elastalert-test-rule when run with the --data flag)
Designed to work recursively against all Elastalert rules in a folder
Can ignore rules that don't have data to test against
Current limitations:
Can currently only check for positive matches
Can't check for a specific number of positive matches
Can't check for specific output in the alert text
Does not work with aggregations (but can check if an aggregated rule fires if the aggregation period is ignored)
How do I use this?

Aside from the CircleCI config, there are three things you will need to add to your existing repository of rules to make this work in your repository:
Data to match against for each rule that you that you want to run CI processes against.

Multiple rules can refer to the same data file, if this works for you.
See data.json for an example of how the data should be formatted; you can use util/es-data-exporter.py to create data in this format. See this post for an example of how to do this end to end.
These files can have any name you like, and can be located anywhere in your repository of rules.

An index of data files, in the format of data-files.yaml. Each reference should have the following:

filename: The location of the data file relative to the repository root
rules: List of rules that you want to test against this data file
start_time: The timestamp of the earliest record in the dataset, in the format YYYY-MM-DDThh:mm:ss
end_time: The timestamp of the latest record in the dataset, in the format YYYY-MM-DDThh:mm:ss
Then define your Docker Compose/CircleCI configuration as required, using the examples provided above as a guide.