Join GitHub today
GitHub is home to over 36 million developers working together to host and review code, manage projects, and build software together.
Sign up
New issue

Have a question about this project? Sign up for a free GitHub account to open an issue and contact its maintainers and the community.

By clicking "Sign up for GitHub", you agree to our terms of service and privacy statement. We'll occasionally send you account related emails.

Already on GitHub? Sign in to your account
Sommario prossima minor version 5.2-RC
#1079
Comments
Forniamo qualche dettaglio sui principali interventi che saranno contenuti nella versione 5.2 di ANPR, già annunciata nella roadmap [https://github.com/italia/anpr/blob/master/src/change-management/roadmap.md]
Presentazione dettaglio soggetto nella consultazione della webapp
In seguito alla risposta sintetica della consultazione introdotta nella versione 5.0 di ANPR, anche la consultazione da applicazione web è stata modificata.
Per migliorare la fruizione da parte degli utenti, verrò permesso di accedere direttamente al dettaglio completo con un click a partire dalla pagina del dettaglio sintetico sul soggetto.
Revisione risposte servizi di registrazione (solo ANPR02)
Con riferimento alla sezione tipoDatiSoggettiRisposta,
restituito nel blocco della RispostaComune dei servizi di registrazione (famiglie 1000, 2000, 5000, A000),
Non verranno più restituite tutte le sezioni, ma solo le sezioni che contengono dei dati generati dal sistema ANPR.
Tutte le altre sezioni non verranno restituite.
In ogni caso la nuova modalità si attiverà solo con il codDestintario ANPR02.
Durante il periodo di supporto alla versione 4 (codDestintario ANPR01) sarà possibile continuare ad utilizzare la precedente modalità.
Ecco l'elenco delle sezioni potenzialmente restituite a partire da questo rilascio dai servizi.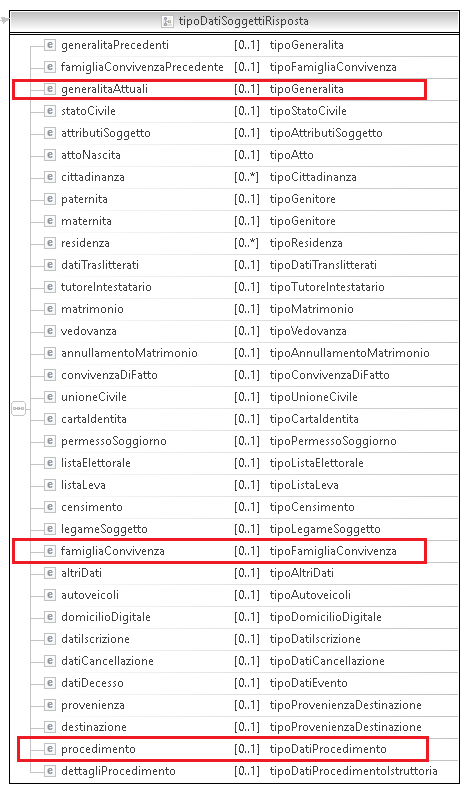 Ad esempio una iscrizione per altri motivi in nuova famiglia, restituirà :
Sezione generalità in quanto contiene l'identificativo attribuito da ANPR al soggetto.
Sezione famiglia in quanto contiene l'identificativo attribuito da ANPR alla famiglia.
Le sezioni, quando presenti, saranno complete.
Vale a dire che, ad esempio, per le generalità, verranno restituiti Nome, Cognome, Data di nascita ecc, oltre all'identificativo ANPR.