New issue

Have a question about this project? Sign up for a free GitHub account to open an issue and contact its maintainers and the community.

By clicking "Sign up for GitHub", you agree to our terms of service and privacy statement. We'll occasionally send you account related emails.

Already on GitHub? Sign in to your account
Max. momentary erratic results with EBU test files(?)
#93
Comments
Hello,
first a bit of background:
I'm a contributor to the SWS Extension (Github repo), an extension for the REAPER DAW. which implements offline Loudness scanning using libebur128.
I've scanned the files from the EBU loudness test set with our Loudness scanner and they all pass, except for test set 13.
In tech3341 it specifies for these files:
Max M = −23.0 ±0.1 LUFS, for each segment
However with our current implementation we get the following results: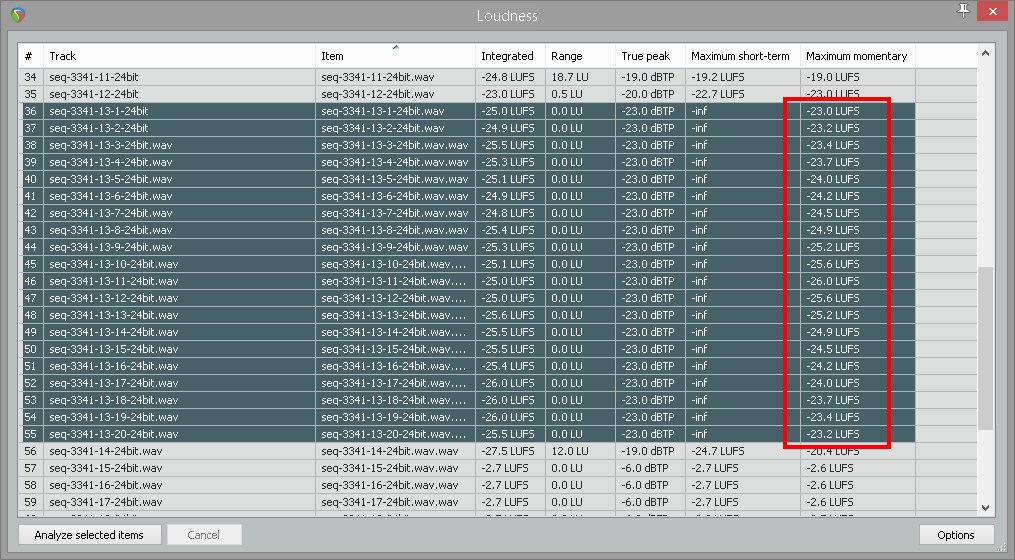 I'm now trying to determine if there's a bug in our implementation (we use a modified version of libebur128) or if this may be an issue with the library itself.
Thank you.
The text was updated successfully, but these errors were encountered:
We are unable to convert the task to an issue at this time. Please try again.