The DMOTE application

This is a CAD program for designing a keyboard that suits you. By editing text files of parameters, you can change:
Switch type: ALPS, Kailh (PG1511) or MX.
Microcontroller type: Lots of options.
Size and shape.

Row and column curvature and tilt (tenting).
Exceptions at any level, down to the position of individual keys.

Minor features like LED strips and wrist rests.
Here are two of the application's bundled designs for concave, columnar, ergonomic keyboards, as examples of what you can do: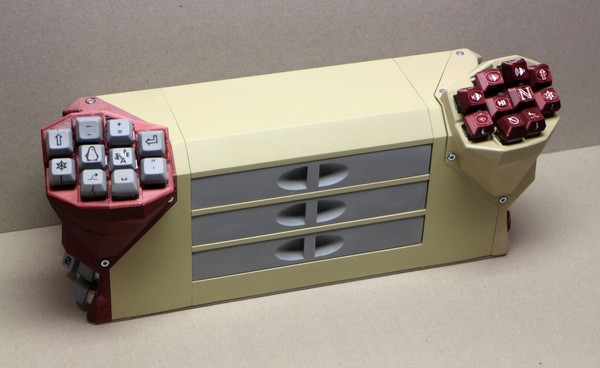 ⤤ The Concertina, a diploid keyboard with 20 thumb keys and 3 assortment drawers.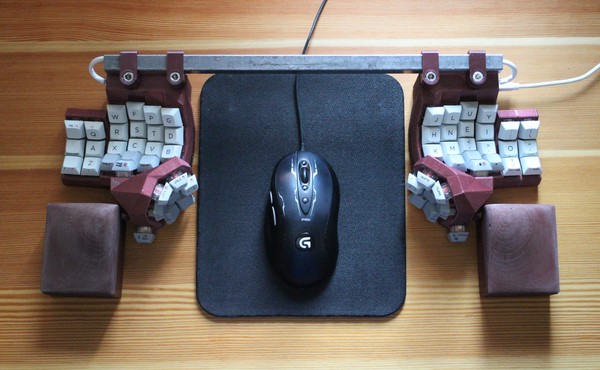 ⤤ The original, split DMOTE keyboard, short for "Dactyl-ManuForm, Opposable Thumb Edition".
To get started, try the introduction, part of the project's documentation.
Links

This project, the DMOTE application, is a fork of Tom Short's Dactyl-ManuForm. It's one of many forks in the Dactyl genus.

There's a small family of accessory projects:

Like its parent, the DMOTE project is based on Matthew Farrell's scad-clj. A second small family of general CAD libraries for scad-clj have grown up around the DMOTE project.
scad-app: A simple way to turn scad-clj specifications into applications, stripping out some boilerplate. See also cad-template, which is all boilerplate for starting new CAD projects that are ready to render.
scad-tarmi: Commonplace abstractions.
scad-klupe: Threaded fasteners.
License

Copyright © 2015–2020 Matthew Adereth, Tom Short, Viktor Eikman et al.

The source code for generating the models (everything excluding the things/ and resources/ directories) is distributed under the GNU AFFERO GENERAL PUBLIC LICENSE Version 3. The generated models and PCB designs are distributed under the Creative Commons Attribution-NonCommercial-ShareAlike License Version 3.0.