Be notified of new releases
Create your free GitHub account today to subscribe to this repository for new releases and build software alongside 28 million developers.
Sign up
cmontella released this Dec 3, 2016 · 1046 commits to master since this release
---
What's new in Eve Alpha v0.2.2?
Eve npm package
We published a package for Eve on npm, so you can now install Eve like so:
npm install -g witheve

This will give you a global Eve installation that you can invoke with the command eve from anywhere. Doing so will start an Eve server, in the same way npm start currently does. (Note: be sure to install witheve, as installing eve will give you a different package)
Workspaces
We're introducing the ability to run Eve in a custom project workspace. To create a new Eve project workspace, create a folder with an empty file named package.json then start Eve from within this folder. Eve recognizes that it's starting in an Eve project, and will serve *.eve files from within this directory instead of the Eve examples folder. Furthermore, you can serve various assets, like images or CSS, by placing them in an "assets" sub-folder.
Server Mode
Now, Eve can be started in server mode using the --server flag:
eve --server

Without this flag, execution of Eve programs happens within the browser, with the Eve server acting as an intermediary between the browser and your local system. In server mode, Eve will instead execute your program on the server. Currently written programs will operate exactly as before, but this is a preliminary step in order to get networked Eve applications going (like a chat server or a multiplayer game). There is still work needed to be done there (currently in review), so stay tuned for more!
Deploying Eve Apps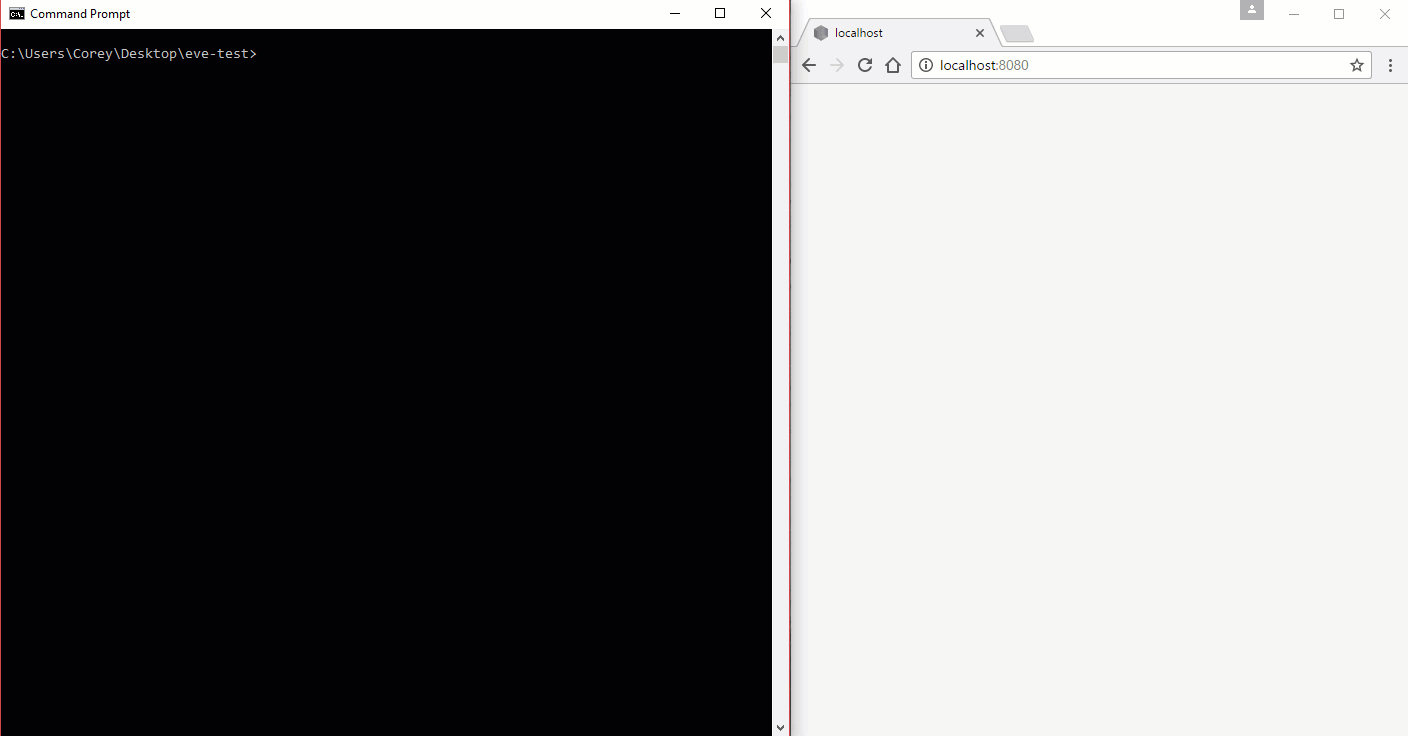 This is one of the most requested features to date, so we're happy to bring it to you! You can now run Eve applications without the editor, which should pave the way to deploying them on your own server. You can specify which Eve program you want to run after the Eve command:
eve ~/myEveDir/myEveFile.eve

Now you can navigate to Eve in your browser to access the specified program. If you like, you can also recover the editor with a flag:
eve ~/myEveDir/myEveFile.eve --editor

This will run the supplied Eve program with the editor visible.
Standard Library
The standard library still needs a lot of work, but thanks to our intrepid community we made some great progress on adding basic functionality.
Added support for the vast majority of HTML/SVG tags (thanks @frankier!)
Added urlencode[] (thanks @renegr!)
Achieved parity with Javascript math library functions and constants (thank @Cormac-Williams!)
Changelog (51)
Editor
Renderer
Platform
Distribution
Libraries
Documentation
Misc Fixes
[594] [485] [543] [567] [494] [488] [578] [615] [8] [11] [13] [16] [17] [19]
Contributors (25)