New issue

Have a question about this project? Sign up for a free GitHub account to open an issue and contact its maintainers and the community.

By clicking "Sign up for GitHub", you agree to our terms of service and privacy statement. We'll occasionally send you account related emails.

Already on GitHub? Sign in to your account
Iterations on "Latest Posts" Block
#1594
melchoyce
opened this issue
Jun 29, 2017
· 68 comments
melchoyce
opened this issue
Jun 29, 2017
· 68 comments
Comments
This description has been edited — please see issue history for older mockups!
Next steps
Featured image support, in its own sidebar section.

Include core image size controls.
Include core alignment controls.

Post content support, in its own sidebar section.

Toggle on/off post content.
When post content is toggled on, choose between excerpt or full post. (Am I missing a default core option? If it's just the two, maybe this should be a radio button instead).
Slider to control excerpt length when the excerpt is selected.

Post meta support, in its own sidebar section.
Organize settings
Why
In preparation for working on page templates in Gutenberg, we'll want a robust set of dynamic blocks that can be dropped into any post or page. Expanding this block will put us in a better position to tackle more complex dynamic or global blocks in the future.
Users shouldn't have to know how to write custom queries or understand the loop to add some posts to their homepage. The Recent Posts block is a great start, but to be a fully functioning solution, it needs to support more than titles and post dates.
What's changed
Before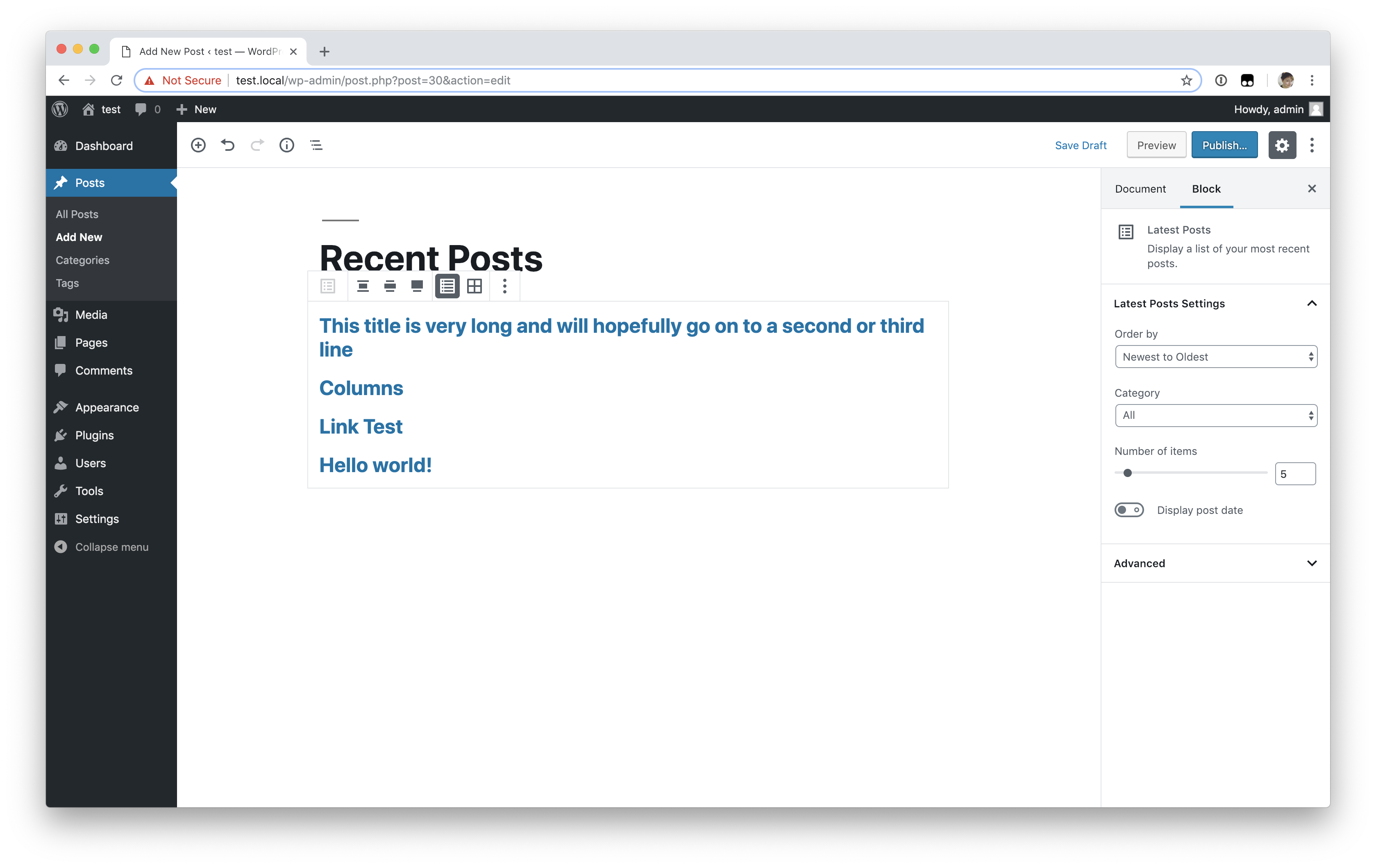 After
Added support for featured images, post content and excerpts, and post meta.
Reorganized the sidebar settings into groups.
Used the new Toolbar grouping design (unsure if this has been implemented yet).
Updated the icons, but this is optional, we can continue using the existing Dashicons for now.
Future iterations
h/t @paaljoachim for a couple of these suggestions:
Expand on taxonomy offerings, like tags.
CPT support.
A way to update the "read more" text.
A way to rearrange all the elements inside of the block — move up meta, move featured image below title, etc.
Potentially display comment information (like # of comments).
Note to new contributors
This issue itself is big but can be divided into smaller tasks which should be a great way to start contributing to Gutenberg with code. If you want to help please leave a comment and we will discuss what would be the best next step.
The text was updated successfully, but these errors were encountered: