This README is English version. If you want to view Japanese version, please check the README_JAPANESE.md.
Info (Last Update: 2019/10/04)

Hi, thank you for visiting this repository.
You may know that there is no commit for a while...... but development is still going on !!!
Currently, I am re-writing whole program into C++ to reduce binary size and more advantages.
This is very important procedure to release our program, so please understand it... :)
I've prepared some milestone, so you may check out it!!
Schedule

1. Python to C++ to resuce binary size
2. Release binary from GitHub Releases
3. Publish demo movies of client/server (Currently working on ...)
4. Publish slides of DetExploit (Japanese version is already ready, so wait for little bit more!!)

Table of contents
Abstract

DetExploit is software that detect vulnerable applications and not-installed important OS updates on the system, and notify them to user.

As we know, most of cyberattacks uses vulnerability that is released out year before.

I thought this is huge problem, and this kind of technology should be more powerful than technology that will detect unknown malwares or exploits.

Also this project is my theme of Mitou Jr project in Japan.

I wish and work hard to make this an huge OSS (Open Source Software) project, to help these days society.
Demo
Demo Video Clip (v0.5, English, Click and jump to YouTube to play video)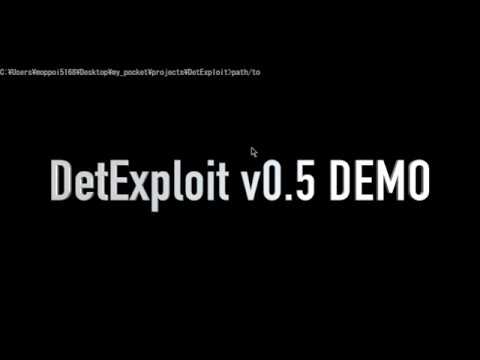 How to run

You can download latest stable build of DetExploit from Releases page.

Easiest way to run is shown below (Do not forget to unzip the downloaded file).
# Execute DetExploit
C:\path\to>cd DetExploit_ReleaseYYYYMMDD
C:\path\to\DetExlopit_ReleaseYYYYMMDD>DetExploit.exe

Supported Database
License

GNU GPLv3 License
Contact to developer