Join GitHub today
GitHub is home to over 36 million developers working together to host and review code, manage projects, and build software together.
Sign up
New issue

Have a question about this project? Sign up for a free GitHub account to open an issue and contact its maintainers and the community.

By clicking "Sign up for GitHub", you agree to our terms of service and privacy statement. We'll occasionally send you account related emails.

Already on GitHub? Sign in to your account
Add blurhash
#10630
Conversation
Blurhash encodes an image as a short string of ASCII characters that can be saved in the database and transmitted via the API. It allows displaying a blurred preview on the clients before the real image file loads. It's also blurred enough that it can be displayed instead of the black box when media is hidden.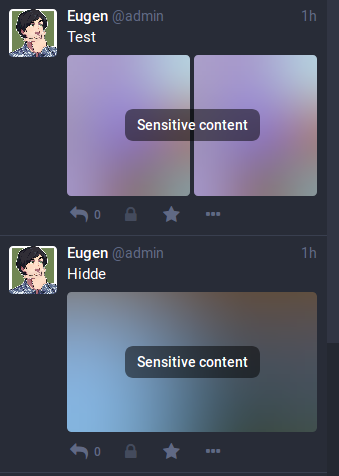 Making the hidden media box a little more visually appealing should hopefully help the adult content creators on the network. But also beyond that, being able to show a nice placeholder is especially useful for media that has been uncached and that is being (slowly) reloaded through the media proxy.
It's also potentially useful for federation with servers from which you do not want to store/load media. The short ASCII code is safe to store and display to the end-user, allowing them to make the decision to click-through to the original resource.
Gargron marked this pull request as ready for review Apr 25, 2019
This comment has been minimized.
Excellent little UX tweak.
Add this suggestion to a batch that can be applied as a single commit.
This suggestion is invalid because no changes were made to the code.
Suggestions cannot be applied while the pull request is closed.
Suggestions cannot be applied while viewing a subset of changes.
Only one suggestion per line can be applied in a batch.
Add this suggestion to a batch that can be applied as a single commit.
Applying suggestions on deleted lines is not supported.
You must change the existing code in this line in order to create a valid suggestion.
Outdated suggestions cannot be applied.
This suggestion has been applied or marked resolved.
Suggestions cannot be applied from pending reviews.