⚠️ IMPORTANT
DemocracyOS is currently without maintenance. More information about it will be published soon. For now you can check democraciaos.org
---
DemocracyOS

DemocracyOS is an online space for deliberation and voting on political proposals. It is a platform for a more open and participatory government.The software aims to stimulate better arguments and come to better rulings, as peers.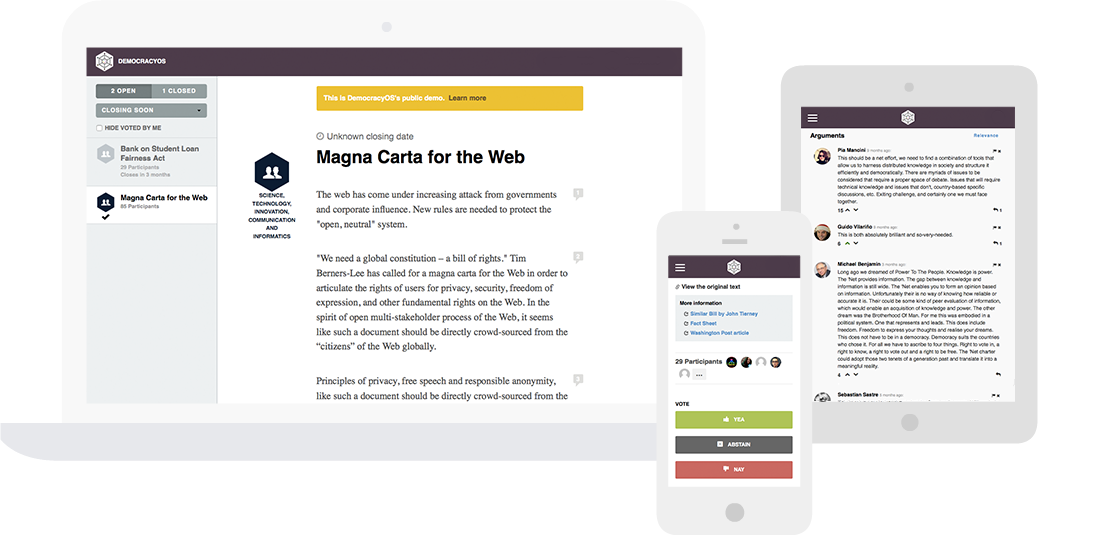 Installation

Please refer to the Installation wiki page for detailed instructions on how to install and setup your instance of DemocracyOS.
Current DemocracyOS deployments
Contributing

Please see CONTRIBUTING.md for further details.
Contributors

See CONTRIBUTORS.md to get to know the DemocracyOS team and contributors.
Links
Browser support

We support real browsers and IE10+
Acknowledgements

Icons made by Jamal Jama and Ahmad Firoz from simplelineicons.com.
License

DemocracyOS is open source software under the GPL v3.0 license. Please see full terms in the LICENSE file.